The DC Pinball League is the only pinball league in Washington, D.C. played at Lyman's Tavern.
League comprises an 8 week season with no finals.  Groups of 3 or 4 players will compete against each other on 4 games.  Points awarded are 4/3/2/1 for 4 player groups and 4/2.5/1 for 3 player groups.  Players get to drop their 2 lowest weekly scores.
We will host a party/finals tournament for all league members in December with prizes to top A and be players.
Entry fee is now only $5 and will go towards annual party and prizes, along with $1 / person towards IFPA dues.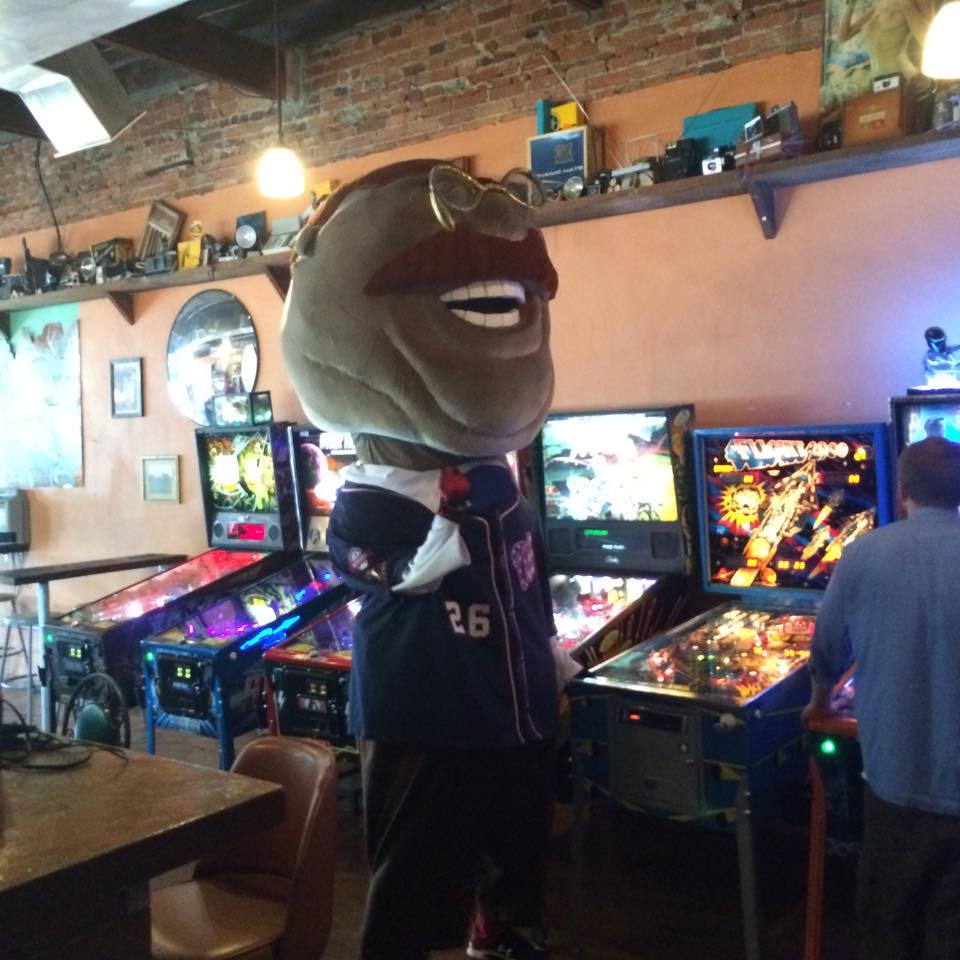 Next League and Party Info
Winter season will start on February 14th.

Significant changes this season:
Black Cat is no longer a league location due to major changes and fewer pinball machines on location.
Sunday nights are moving to Lyman's Tavern, 30 minutes earlier at 7:00pm.
Entry fees have been reduced from $20 to $5.
No season finals; results will be based on regular season performance.
Points in each game have changed slightly:  4 player groups, 4/3/2/1, 3 player groups 4/2.5/1 and 2 player groups if necessary will be 4/2 with a bonus point to loser since 2 player groups are not desired.
An annual party/tournament finals will be held in December for all league members, but will not be an IFPA event.  Fun party/tournament with prizes to A and B players.
Winter Schedule
Week definition:
Thursday through Monday
Week 1:
Thursday 2/14 @ 8:30
Sunday 2/17 @ 7:00
Monday 2/18 @ 2:00
Week 8:
Thursday 4/4 @ 8:30
Sunday 4/7 @ 7:00
Monday 4/8 @ 2:00
League Locations
Lyman's Tavern
3720 14th St NW
Washington, DC 20011
(202) 723-0502
lymanstavern.com
Details
Entry
Season Due: $5 per player
Format
Groups
Random draw for groupings, 3 or 4 player groups.  Play 4 games.
Order and Game Choice
1st game: First player has choice of game, players play in order on score sheet
2nd - 4th game:  Last place player on previous game has choice of game or order, followed by third place, second place and then first place player from previous game
Points
4 player groups: 1st - 4pts, 2nd - 3pts, 3rd - 2pts, 4th - 1pt
3 player groups: 1st - 4pts, 2nd - 2.5pts, 3rd - 1pt
2 player groups: 1st - 4pts, 2nd - 2pts
Regular Season
Lowest 2 weekly scores are dropped.  Final standings is based on how many points earned from 6 weeks out of 8 played.  Tie breakers will be based on total # of 16 point weeks, then 15 point weeks, etc.
Annual Finals

To be determined but will be based on regular season performances, or a random tournament for all to simply enjoy.  Prizes will be handed out based on regular season dues.
World Pinball Player Ranking (WPPR) Points
All participants will receive WPPR points based on their performance for regular season, but not for the annual finals.
Official Rules
See Official Rules for more details on format, finals, extra balls, etc.
Past Seasons' Results
| Season | League Winner | A Div. Winner | B Div. Winner |
| --- | --- | --- | --- |
| Fall 2016 | n/a | Kevin Stone | Kevin Perone |
| Winter 2017 | Kevin Stone | Kevin Stone | Sarah Guynn |
| Spring 2017 | Fil Baird | Greg Boehm | Douglas J. Malcolm |
| Summer 2017 | Kevin Stone | Kevin Stone | Douglas J. Malcolm |
| Fall 2017 | Kevin Stone | Kevin Stone | Mollie Lee |
| Winter 2018 | Kevin Stone | Fil Baird | Jamie Hall |
| Spring 2018 | Pierce McLain | Doru Zuba | David Barber |
| Summer 2018 | David Barber | Noel Manzullo | Peter Miller |
| Fall 2018 | Fil Baird | Fil Baird | Mollie Lee |
Current Standings
| Player | Dues | Week 1 | Week 2 | Week 3 | Week 4 | Week 5 | Week 6 | Week 7 | Week 8 | Total | Total w/o lowest 2 scores | |
| --- | --- | --- | --- | --- | --- | --- | --- | --- | --- | --- | --- | --- |
| Chadwick Vale | Paid-ML | 10.0 T | 13.0 T | 13.0 T | 7.0 T | 16.0 T | 14.5 T | 13.0 T | 14.5 T | 101.0 | 84.0 | |
| Doru Zuba | Paid-FB | 9.0 M | 13.0 M | 13.0 T | 10.0 T | 14.5 T | 16.0 T | 14.5 T | 10.0 S | 100.0 | 81.0 | |
| Fil Baird | Org | 15.0 M | 9.0 M | 13.0 M | 16.0 M | 14.0 T | 12.0 M | 10.0 M | 10.0 S | 99.0 | 80.0 | |
| Calvin Oung | Paid-BW | 0 | 13.0 S | 0 | 14.5 S | 14.0 S | 13.0 S | 9.0 S | 15.0 S | 78.5 | 78.5 | |
| Stephen Hansell | Paid-FB | 9.0 M | 9.0 M | 16.0 M | 14.5 M | 5.5 T | 13.0 M | 8.5 M | 16.0 M | 91.5 | 77.5 | |
| Mollie Lee | Org | 11.5 T | 14.0 T | 14.0 T | 8.5 T | 11.0 T | 13.0 T | 8.5 T | 12.0 T | 92.5 | 75.5 | |
| Rose Weingartner | Paid-BW | 10.0 S | 13.0 T | 8.5 T | 13.0 S | 11.0 T | 14.0 S | 13.0 S | 11.5 T | 94.0 | 75.5 | |
| Stephanie Traub | Paid-FB | 11.5 M | 14.5 T | 11.5 T | 13.0 T | 7.0 T | 13.0 M | 10.0 M | 11.5 S | 92.0 | 75.0 | |
| Tom Kenyon | Paid-BW | 11.5 S | 4.0 S | 13.0 S | 10.0 T | 12.0 T | 7.0 T | 12.0 T | 13.0 T | 82.5 | 71.5 | |
| Noel Manzullo | Paid-FB | 11.5 M | 13.0 M | 8.5 M | 8.5 S | 11.0 T | 4.0 T | 14.0 M | 11.5 M | 82.0 | 69.5 | |
| Simon Hoogland | Paid-BW | 11.5 S | 0 | 8.5 M | 11.5 M | 13.0 M | 0 | 14.5 M | 10.0 M | 69.0 | 69.0 | |
| Shawn Hillman | Paid-ML | 15.0 T | 13.0 T | 10.0 T | 0 | 12.0 T | 0 | 7.0 T | 11.5 T | 68.5 | 68.5 | |
| Garrett Traub | Paid-FB | 14.0 M | 12.0 T | 9.0 T | 11.5 T | 8.0 T | 0 | 11.0 M | 10.0 S | 75.5 | 67.5 | |
| Wesley King | Paid-ML | 11.5 T | 12.0 T | 11.5 T | 7.0 T | 10.0 T | 8.0 S | 8.5 T | 13.0 S | 81.5 | 66.5 | |
| Benjamin Linkow | Paid-ML | 10.0 T | 9.0 T | 11.5 S | 11.0 T | 0 | 11.5 T | 11.0 S | 10.0 T | 74.0 | 65.0 | |
| Brian Weingartner | Org | 7.5 S | 13.0 S | 11.5 S | 10.0 S | 10.0 S | 8.5 S | 10.0 S | 10.0 S | 80.5 | 64.5 | |
| Kevin Perone | Paid-FB | 9.0 M | 9.0 T | 11.5 T | 11.0 T | 12.5 M | 0 | 7.0 T | 10.0 T | 70.0 | 63.0 | |
| Jess Kleinmann | Paid-BW | 12.0 S | 10.0 S | 13.0 S | 7.0 S | 0 | 8.5 S | 11.0 S | 6.0 S | 67.5 | 61.5 | |
| Anthony Wojtkowiak | Paid-ML | 16.0 T | 0 | 11.0 T | 13.0 T | 12.0 T | 8.5 T | 0 | 0 | 60.5 | 60.5 | |
| Victoria Rocco | | 0 | 13.0 T | 0 | 14.5 T | 0 | 14.5 T | 8.5 T | 9.0 T | 59.5 | 59.5 | |
| Jon Blundell | Paid-ML | 11.5 T | 8.5 T | 12.0 T | 0 | 11.0 T | 11.5 T | 0 | 4.0 T | 58.5 | 58.5 | |
| Joe Winkle | Paid-ML | 8.5 T | 9.0 T | 5.5 M | 8.0 T | 7.0 T | 11.0 S | 12.0 S | 8.5 S | 69.5 | 57.0 | |
| Dru Edmondson | Paid-ML | 7.0 T | 0 | 10.0 T | 10.0 T | 8.0 T | 11.5 T | 0 | 10.0 T | 56.5 | 56.5 | |
| Derek Swanson | Paid-ML | 7.0 T | 4.0 T | 10.0 T | 7.0 M | 7.0 T | 11.5 T | 7.0 M | 8.0 T | 61.5 | 50.5 | |
| Dan Madere | Paid-ML | 7.0 T | 5.5 T | 0 | 10.0 T | 9.0 T | 7.0 T | 10.0 T | 0 | 48.5 | 48.5 | |
| Linda Slape | Paid-ML | 7.0 T | 5.0 T | 5.5 T | 8.5 T | 8.0 T | 8.5 T | 8.0 S | 8.0 T | 58.5 | 48.0 | |
| Brendan Agnew | Paid-FB | 5.0 M | 0 | 8.5 M | 7.0 M | 7.0 M | 9.0 M | 7.0 M | 8.0 M | 51.5 | 46.5 | |
| Pierce McLain | Paid-FB | 12.0 M | 8.5 M | 0 | 10.0 M | 4.0 M | 11.0 M | 0 | 0 | 45.5 | 45.5 | |
| Andrew Robinson | Paid-FB | 0 | 9.0 M | 0 | 8.5 M | 9.0 M | 0 | 10.0 M | 8.5 M | 45.0 | 45.0 | |
| Kat Paige | Paid-ML | 5.5 T | 14.0 S | 5.5 S | 5.5 M | 5.0 T | 7.0 S | 6.0 S | 6.0 S | 54.5 | 44.0 | |
| Steve O'Connor | Paid-ML | 7.0 T | 8.5 T | 5.5 T | 7.0 T | 6.0 T | 5.5 T | 4.0 M | 10.0 T | 53.5 | 44.0 | |
| Dan Miller | Paid-FB | 7.0 M | 8.5 M | 0 | 0 | 0 | 5.5 T | 11.0 T | 8.5 T | 40.5 | 40.5 | |
| Jon Horner | Paid-ML | 11.0 T | 10.0 T | 4.0 T | 0 | 15.0 T | 0 | 0 | 0 | 40.0 | 40.0 | |
| Katie Kaufmann | Paid-BW | 8.0 S | 0 | 0 | 7.0 S | 10.0 M | 0 | 8.0 M | 0 | 33.0 | 33.0 | |
| Max Kuller | Paid-BW | 10.0 S | 10.0 T | 10.0 T | 0 | 0 | 0 | 0 | 0 | 30.0 | 30.0 | |
| Phil Schwartz | Paid-FB | 0 | 0 | 0 | 11.5 M | 0 | 10.0 M | 0 | 0 | 21.5 | 21.5 | |
| Evan Buschmann | Paid-FB | 7.0 M | 8.5 T | 0 | 0 | 0 | 0 | 0 | 0 | 15.5 | 15.5 | |
| David Barber | Paid-ML | 14.5 T | 0 | 0 | 0 | 0 | 0 | 0 | 0 | 14.5 | 14.5 | |
| Ryan Morgan | Paid-BW | 0 | 8.5 T | 5.5 S | 0 | 0 | 0 | 0 | 0 | 14.0 | 14.0 | |
Machines @ Lyman's Tavern