Details
The third season of the DC Pinball League was another success with a total of 42 players that participated.  Once again we had three prize pools:  Overall League Finish, A division, and B division.
The overall league was the regular season points (best 6 of 8 weeks) combined with the playoff points earned in up to three rounds.  Players could not win more than one prize pool, so a player that earned a prize in two pools simply took the highest prize, and then the other prize became available to the next qualified player.  This occurred a few times resulting in many players moving up to better prizes, including Chris Newsom and Howard Dobson tying for 3rd place overall, and splitting the 3rd and 4th prize.  Shawn Hillman, Francis Parks, Mollie Lee and Rob Thomas all jumped up to claim A division playoff prizes.
Overall league finishers (slightly different than the prizes awarded) were: Fil Baird, Greg Boehm, Kevin Stone, Chris Newsom and Howard Dobson.
A division top place finishers were: Greg Boehm, Howard Dobson, Fil Baird and Kevin Stone.
B division top place finishers were: Douglas Malcolm, Chadwick Vale, Sarah Guynn, and Doru Zuba.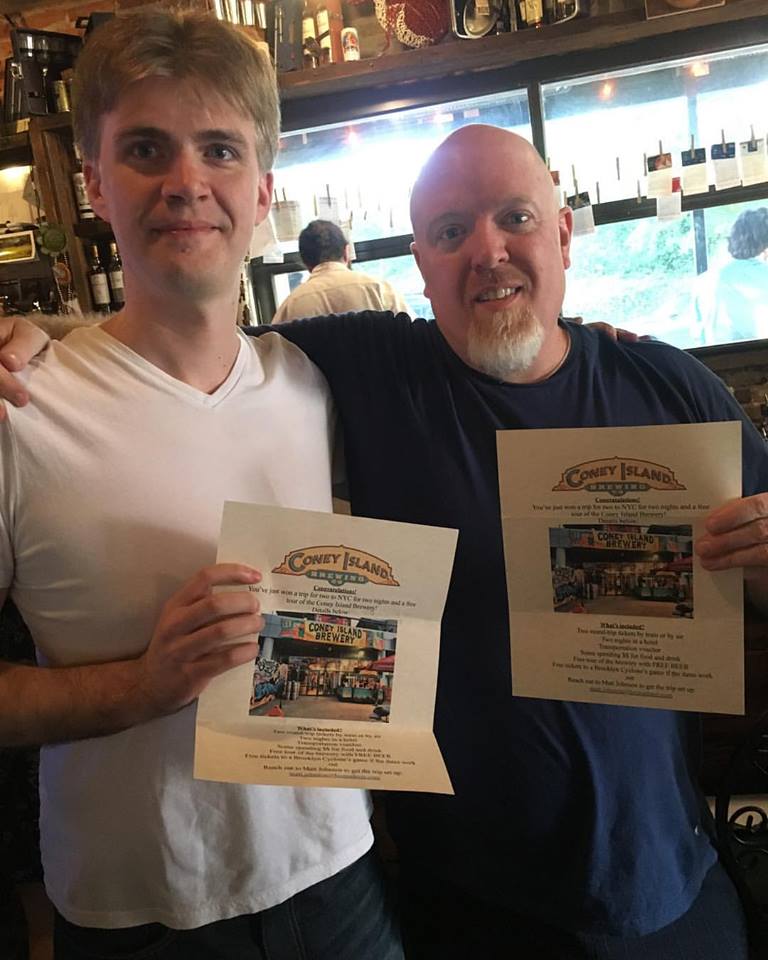 Entry Fee / Expenses / Payouts
| Entry Fee Type | # of Players | Sub-Total |
| --- | --- | --- |
| Total | | $760 |
| Paid Players ($20) | 38 | $760 |
| Organizers ($0) | 4 | $0 |
| Comped Player ($0) | 1 | $0 |
| Dropped Out ($0) | 1 | $0 |
| Expense Type | Amount |
| --- | --- |
| Total | $120 |
| Pintervention Fund | $50 |
| Party Snacks/Sodas | $70 |
| Prize Pool | Amount |
| --- | --- |
| Total | $640 |
| League - 1st | $100 |
| League - 2nd | $80 |
| League - Tie 3rd | $50 ea. |
| A - 1st | $75 + Coney Island Trip |
| A - 2nd | $50 |
| A - 3rd | $35 |
| A - Tie 4th | $10 ea. |
| B - 1st | $75 + Coney Island Trip |
| B - 2nd | $50 |
| B - 3rd | $35 |
| B - 4th | $20 |
Final Results
| Place | Player | Tokens |
| --- | --- | --- |
| 1 | Fil Baird | 100 |
| 2 | Greg Boehm | 75 |
| 3 | Kevin Stone | 60 |
| 4 | Chris Newsom | 48 |
| 4 | Howard Dobson | 48 |
| 6 | Shawn Hillman | 38 |
| 6 | Mollie Lee | 38 |
| 8 | Rob Thomas | 30 |
| 9 | Douglas J Malcolm | 28 |
| 10 | Pierce McLain | 26 |
| 11 | Chadwick Vale | 24 |
| 12 | Francis Parks | 22 |
| 13 | Max Kuller | 20 |
| 14 | Noel Manzullo | 18 |
| 15 | Audrey Bonsignore | 15 |
| 15 | Andrew Robinson | 15 |
| 17 | Garrett Traub | 13 |
| 18 | Wesley King | 12 |
| 19 | Doru Zuba | 11 |
| 20 | Dru Edmondson | 7 |
| 20 | Joana Lopes | 7 |
| 20 | Jess Kleinmann | 7 |
| 23 | Gerald Neuwirth | 5 |
| 24 | Peter Miller | 5 |
| 25 | Kori Phillips | 5 |
| 26 | Stephanie Traub | 5 |
| 26 | Jon Horner | 5 |
| 26 | David Barber | 5 |
| 29 | Sarah Guynn | 5 |
| 30 | Benjamin McMurtry | 5 |
| 31 | Kelly Phillips | 5 |
| 31 | Matt Falk | 5 |
| 33 | Jon Blundell | 5 |
| 34 | Melanie Weyant | 5 |
| 34 | Jamie Green | 5 |
| 36 | Brendan Griffiths | 5 |
| 36 | Katie Kaufmann | 5 |
| 38 | Evan Cowan | 5 |
| 39 | Chris Keller | 5 |
| 40 | Matt Myerson | 5 |
| 41 | Jay Zalman | 5 |
| 42 | Casey Runck | 5 |
Final Results and Playoff Points
| League Result | Playoff Result | Prize | Player | Season Points | Finals Round 1 | Finals Round 2 | Finals Round 3 | Final Point Total |
| --- | --- | --- | --- | --- | --- | --- | --- | --- |
| 1 | A-3 | League 1st - $100 | Fil Baird | 62 | 9 | 6 | 5 | 82 |
| 2 | A-1 | A Div 1st - $75 + Coney Island Trip | Greg Boehm | 54 | 10 | 7 | 9 | 80 |
| 3 | A-4 | League 2nd - $80 | Kevin Stone | 59 | 9 | 7 | 1 | 76 |
| 4 | A-11 | League T-3rd - $50 | Chris Newsom | 66 | 4 | - | - | 70 |
| 4 | A-2 | League T-3rd - $50 | Howard Dobson | 50 | 7 | 7 | 6 | 70 |
| 6 | A-5 | A Div 2nd - $50 | Shawn Hillman | 57 | 6 | 5 | - | 68 |
| 6 | A-7 | A Div T-4th - $10 | Mollie Lee | 59 | 6 | 3 | - | 68 |
| 8 | A-7 | A Div T-4th - $10 | Rob Thomas | 55 | 7 | 3 | - | 65 |
| 9 | B-1 | B Div 1st - $75 + Coney Island Trip | Douglas J Malcolm | 50 | 4.5 | 5 | 4.5 | 64 |
| 10 | A-11 | | Pierce McLain | 58 | 4 | - | - | 62 |
| 11 | B-2 | B Div 2nd - $50 | Chadwick Vale | 49 | 5 | 5 | 2.5 | 61.5 |
| 12 | A-6 | A Div 3rd - $35 | Francis Parks | 51 | 6 | 4 | - | 61 |
| 13 | A-9 | | Max Kuller | 51 | 6 | - | - | 57 |
| 14 | A-10 | | Noel Manzullo | 51 | 5 | - | - | 56 |
| 15 | A-13 | | Audrey Bonsignore | 52 | 3 | - | - | 55 |
| 15 | B-8 | | Andrew Robinson | 49 | 6 | 0 | - | 55 |
| 17 | B-6 | | Garrett Traub | 49 | 3.5 | 2 | - | 54.5 |
| 18 | DNP | | Wesley King | 54 | - | - | - | 54 |
| 19 | B-4 | B Div 4th - $20 | Doru Zuba | 45 | 3.5 | 2.5 | 1.5 | 52.5 |
| 20 | DNP | | Dru Edmondson | 52 | - | - | - | 52 |
| 20 | A-14 | | Joana Lopes | 50 | 2 | - | - | 52 |
| 20 | B-9 | | Jess Kleinmann | 49 | 3 | - | - | 52 |
| 23 | A-15 | | Gerald Neuwirth | 51 | 0 | - | - | 51 |
| 24 | B-5 | | Peter Miller | 43 | 4 | 2.5 | - | 49.5 |
| 25 | B-12 | | Kori Phillips | 47 | 1.5 | - | - | 48.5 |
| 26 | DNP | | Stephanie Traub | 48 | - | - | - | 48 |
| 26 | DNP | | Jon Horner | 48 | - | - | - | 48 |
| 26 | DNP | | David Barber | 48 | - | - | - | 48 |
| 29 | B-3 | B Div 3rd - $35 | Sarah Guynn | 39 | 3 | 3 | 2 | 47 |
| 30 | B-10 | | Benjamin McMurtry | 44 | 2 | - | - | 46 |
| 31 | DNP | | Kelly Phillips | 43 | - | - | - | 43 |
| 31 | DNP | | Matt Falk | 43 | - | - | - | 43 |
| 33 | DNP | | Jon Blundell | 41 | - | - | - | 41 |
| 34 | B-7 | | Melanie Weyant | 34 | 4 | 1 | - | 39 |
| 34 | B-10 | | Jamie Green | 37 | 2 | - | - | 39 |
| 36 | DNP | | Brendan Griffiths | 37 | - | - | - | 37 |
| 36 | DNP | | Katie Kaufmann | 37 | - | - | - | 37 |
| 38 | DNP | | Evan Cowan | 31 | - | - | - | 31 |
| 39 | DNP | | Chris Keller | 30 | - | - | - | 30 |
| 40 | DNP | | Matt Myerson | 27 | - | - | - | 27 |
| 41 | DNP | | Jay Zalman | 23 | - | - | - | 23 |
| 42 | DNP | | Casey Runck | 17 | - | - | - | 17 |