Details
The sixth overall season of the DC Pinball League was another success with a total of 38 players that participated.  Once again we had three prize pools:  Overall League Finish, A division, and B division.
We had 10 new players to the league this season!!!  Everyone was a great addition to the league and we hope to see them all again next season.
The A division and overall league winners were comprised of the same 4 players, but the results were completely inverse:  Kevin (1st league, 4th A finals), Chad (2nd league, 3rd A finals), Corey (3rd league, 2nd A finals), and Fil (4th league, 1st A finals).  It was a close finish with 1st thru 3rd only separated by 1 point (83, 82 and 81 total).  Fun finish to another great season.
The overall league was the regular season points (best 6 of 8 weeks) combined with the playoff points earned in up to three rounds.  Players could not win more than one prize pool, so a player that earned a prize in two pools simply took the highest prize, and then the other prize became available to the next qualified player. 
Overall league finishers were: Kevin Stone, Chadwick Vale, Corey Long, and Fil Baird.
A division top place finishers were: Fil Baird, Corey Long, Chadwick Vale, and Kevin Stone.
B division top place finishers were: Jamie Hall, Dru Edmondson, Jon Blundell, and Kevin Perone.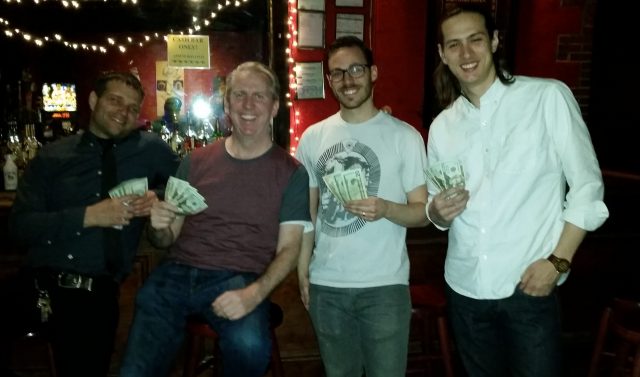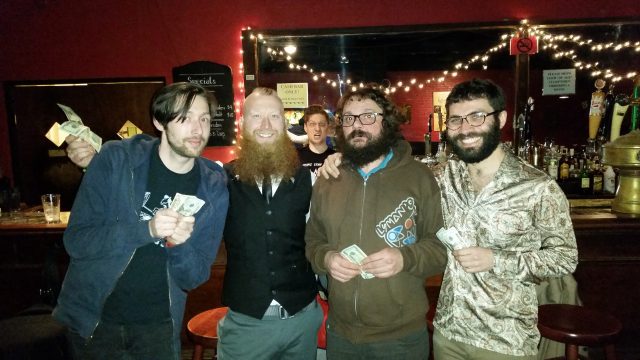 Entry Fee / Expenses / Payouts
| Entry Fee Type | # of Players | Sub-Total |
| --- | --- | --- |
| Total | | $600 |
| Paid Players ($20) | 30 | $600 |
| Organizers ($0) | 4 | $0 |
| Comped Player ($0) | 4 | $0 |
| Dropped Out ($0) | 3 | $0 |
| Expense Type | Amount |
| --- | --- |
| Total | $80 |
| Pintervention Fund | $20 |
| Party Snacks/Sodas | $22 |
| IFPA Player Dues | $38 |
| Prize Pool | Amount |
| --- | --- |
| Total | $520 |
| League - 1st | $80 |
| League - 2nd | $60 |
| League - 3rd | $40 |
| League - 4th | $20 |
| A - 1st | $75 |
| A - 2nd | $50 |
| A - 3rd | $35 |
| A - 4th | $20 |
| B - 1st | $50 |
| B - 2nd | $40 |
| B - 3rd | $30 |
| B - 4th | $20 |
Final Results
| Place | Player | WPPRs |
| --- | --- | --- |
| 1 |  Kevin Stone | 17.02 |
| 2 |  Chadwick Vale | 10.82 |
| 3 |  Corey Long | 7.92 |
| 4 |  Fil Baird | 5.97 |
| 5 |  Joana Lopes | 4.57 |
| 6 |  Max Kuller | 3.56 |
| 7 |  David Barber | 2.8 |
| 7 |  Andrew Robinson | 2.8 |
| 9 |  Pierce McLain | 1.86 |
| 9 |  Peter Miller | 1.86 |
| 11 |  Shawn Hillman | 1.39 |
| 12 |  Noel Manzullo | 1.18 |
| 12 |  Stephanie Traub | 1.18 |
| 12 |  Garrett Traub | 1.18 |
| 15 |  Francis Parks | 1.07 |
| 16 |  Jon Horner | 1.03 |
| 17 |  Mollie Lee | 0.99 |
| 18 |  Wesley King | 0.94 |
| 19 |  Jamie Hall | 0.9 |
| 20 |  Dru Edmondson | 0.85 |
| 21 |  Kevin Perone | 0.81 |
| 22 |  Jon Blundell | 0.76 |
| 23 |  Dan Miller DC | 0.72 |
| 24 |  Jess Kleinmann | 0.67 |
| 25 |  Sidney Helfer | 0.63 |
| 26 |  Rose Weingartner | 0.58 |
| 27 |  Chris Keller | 0.54 |
| 28 |  Bobbie Dougherty | 0.49 |
| 28 |  Victoria Rocco | 0.49 |
| 30 |  Matt Anderson | 0.4 |
| 31 |  Simon Hoogland | 0.36 |
| 31 |  Brian Weingartner | 0.36 |
| 33 |  Terry Thiele | 0.27 |
| 34 |  Gerald Neuwirth | 0.22 |
| 35 |  Katie Kaufmann | 0.18 |
| 35 |  Sarah Murphy | 0.18 |
| 37 |  Alyx Margine | 0.09 |
| 38 |  Audrey Francesca | 0.04 |
Final Results and Playoff Points
Below Red Dotted Line: B division (points earned in B finals do not get counted towards overall league standings - they only apply to players not in A division in determining final standings for those players)
DNP = Did Not Play in Finals
| League Result | Playoff Result | Prize | Player | Season Points | Finals Round 1 | Finals Round 2 | Finals Round 3 | Final Point Total |
| --- | --- | --- | --- | --- | --- | --- | --- | --- |
| 1 | A-04 | League 1st - $80 | Kevin Stone | 66 | 6 | 9 | 2 | 83 |
| 2 | A-03 | League 2nd - $60 | Chadwick Vale | 64 | 5 | 8 | 5 | 82 |
| 3 | A-2 | A Div 2nd - $50 | Corey Long | 60 | 6 | 8 | 7 | 81 |
| 4 | A-1 | A Div 1st - $75 | Fil Baird | 56 | 8 | 8 | 7 | 79 |
| 5 | A-05 | League 3rd - $40 | Joana Lopes | 60 | 10 | 4 | - | 74 |
| 6 | A-06 | A Div 3rd - $35 | Max Kuller | 62 | 6 | 3 | - | 71 |
| 7 | A-09 | League 4th - $20 | Andrew Robinson | 62 | 5 | - | - | 67 |
| 7 | A-07 | A Div 4th - $20 | David Barber | 56 | 9 | 2 | - | 67 |
| 9 | A-08 | | Peter Miller | 56 | 7 | 0 | - | 63 |
| 9 | A-10 | | Pierce McLain | 59 | 4 | - | - | 63 |
| 11 | A-10 | | Shawn Hillman | 57 | 4 | - | - | 61 |
| 12 | A-15 | | Noel Manzullo | 54 | 2 | - | - | 56 |
| 12 | A-13 | | Garrett Traub | 53 | 3 | - | - | 56 |
| 12 | A-10 | | Stephanie Traub | 52 | 4 | - | - | 56 |
| 15 | A-13 | | Francis Parks | 52 | 3 | - | - | 55 |
| 16 | DNP | | Jon Horner | 53 | - | - | - | 53 |
| 17 | A-15 | | Mollie Lee | 50 | 2 | - | - | 52 |
| 18 | DNP | | Wesley King | 50 | - | - | - | 50 |
| 19 | B-01 | B Div 1st - $50 | Jamie Hall | 47 | 10 | 9 | 8 | 74 |
| 20 | B-02 | B Div 2nd - $40 | Dru Edmondson | 46 | 12 | 6 | 6 | 70 |
| 21 | B-04 | B Div 4th - $20 | Kevin Perone | 50 | 7 | 9 | 2 | 68 |
| 22 | B-03 | B Div 3rd - $30 | Jon Blundell | 47 | 7 | 6 | 5 | 65 |
| 23 | B-06 | | Dan Miller DC | 46 | 9 | 3 | - | 58 |
| 24 | B-05 | | Jess Kleinmann | 46 | 6 | 5 | - | 57 |
| 25 | B-06 | | Sidney Helfer | 42 | 9 | 3 | - | 54 |
| 26 | B-09 | | Rose Weingartner | 45 | 5 | - | - | 50 |
| 27 | DNP | | Chris Keller | 48 | - | - | - | 48 |
| 28 | B-08 | | Victoria Rocco | 40 | 6 | 1 | - | 47 |
| 28 | B-09 | | Bobbie Dougherty | 42 | 5 | - | - | 47 |
| 30 | DNP | | Matt Anderson | 46 | - | - | - | 46 |
| 31 | DNP | | Brian Weingartner | 44 | - | - | - | 44 |
| 31 | B-09 | | Simon Hoogland | 39 | 5 | - | - | 44 |
| 33 | B-12 | | Terry Thiele | 36 | 3 | - | - | 39 |
| 34 | DNP | | Gerald Neuwirth | 38 | - | - | - | 38 |
| 35 | DNP | | Sarah Murphy | 37 | - | - | - | 37 |
| 35 | DNP | | Katie Kaufmann | 37 | - | - | - | 37 |
| 37 | DNP | | Alyx Margine | 34 | - | - | - | 34 |
| 38 | DNP | | Audrey Francesca | 19 | - | - | - | 19 |