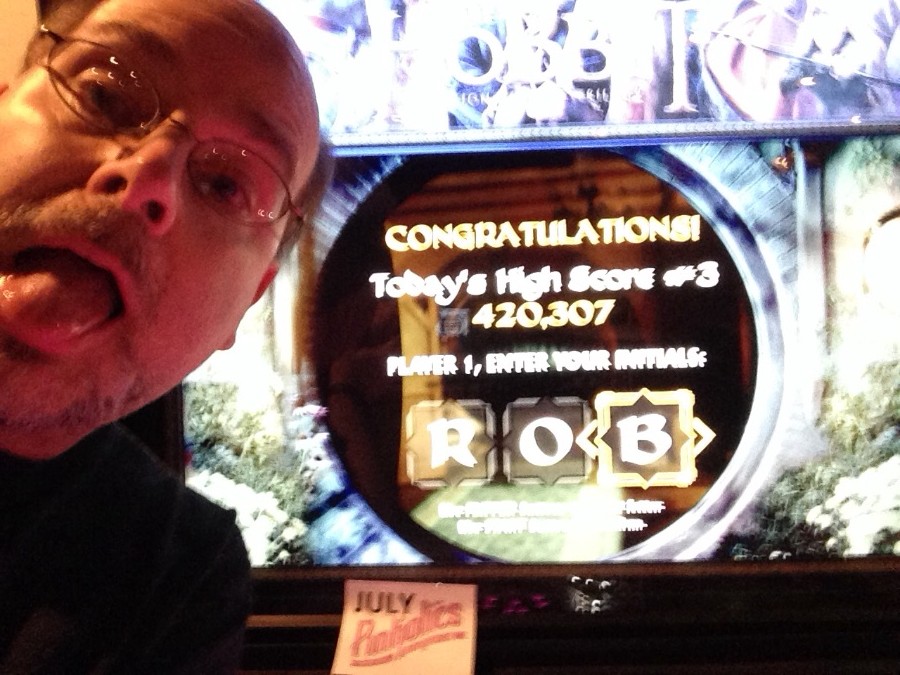 Details
The third Pinabler Tour finals were held on August 6th at 7pm at Red Zone in Fairfax.  We had 8 participants including one player from Richmond and one player from Virginia Beach (both of whom made it to the finals, making that drive worth it).
Some fun notes regarding the tournament. 
There were two tie-breakers, one in the semi-finals and one in the finals.
In the semi-finals in group 1, Paul McGlone and Rob Wintler-Cox played a tie-breaker on Metallica to determine who advanced to the finals, and Rob pulled it out and eventually won 1st place.  Way to go tie-breaker for the win!
In the finals, Scott Durfee beat Andrew Pancoast by 200 points on Harlem Globetrotters to make it into a tie-breaker with James Daley; otherwise, Andrew would have been in the tie-breaker with James.  Scott ended up winning the tie-breaker for 2nd place.
Both first place and second place finishers had to win a tie-breaker to get it done!
Qualifying Rounds
Results and final standings from qualifying can be found here
Semi-Finals
Group 1
Player
Fish Tales
White Water
Hobbit
Total
Result
1
Paul McGlone
P1
14,702,100
1
P1
225,775,400
1
P2
472,695
4
6
Tie
4
James Daley
P4
58,704,410
4
P4
232,335,650
2
P4
112,016
1
7
Adv.
5
Eric Schoch
P3
46,591,960
2
P3
51,766,370
0
P3
88,028
0
2
7th
8
Rob Wintler-Cox
P2
12,389,490
0
P2
280,707,670
4
P1
212,616
2
6
Tie
Tie Breaker
Player
Metallica
Result
1
Paul McGlone
P2
13,382,390
Loss
5th
8
Rob Wintler-Cox
P1
45,957,010
Win
Adv.
Group 2
Player
Metallica
Harlem
Monster Bash
Total
Result
2
Andrew Pancoast
P2
13,627,300
1
P2
121,430
4
P2
49,395,020
4
9
Adv.
3
David Horner
P4
15,201,980
2
P4
37,630
1
P4
10,924,820
2
5
6th
6
Scott Durfee
P3
54,302,280
4
P3
51,370
2
P3
4,664,200
0
6
Adv.
7
Peter Pinocci
P1
10,178,710
0
P1
20,210
0
P1
5,234,800
1
1
8th
Finals
Player
Metallica
White Water
Harlem
Total
Result
2
Andrew Pancoast
P1
18,594,750
1
P2
211,727,860
1
P2
56,600
1
3
4th
4
James Daley
P4
68,911,620
4
P4
78,712,060
0
P1
34,820
0
4
Tie
6
Scott Durfee
P3
12,103,510
0
P3
417,431,470
2
P4
56,800
2
4
Tie
8
Rob Wintler-Cox
P2
40,520,470
2
P1
506,343,730
4
P3
66,790
4
10
1st
Tie Breaker
Player
Sopranos
Result
4
James Daley
P1
2,859,190
Loss
3rd
6
Scott Durfee
P2
7,337,720
Win
2nd
Entry Fee / Expenses / Payouts
| Entry Fee Type | # of Players | Sub-Total |
| --- | --- | --- |
| Total | | $120 |
| Paid Players ($15) | 8 | $120 |
| Expense Type | Amount |
| --- | --- |
| Total | $30 |
| Pintervention Fund | $30 |
| Prize Pool | Amount |
| --- | --- |
| Total | $90 |
| 1st | $60 |
| 2nd | $30 |
Final Results
| Place | Player | Tokens |
| --- | --- | --- |
| 1st | Rob Wintler-Cox | 100 |
| 2nd | Scott Durfee | 75 |
| 3rd | James Daley | 60 |
| 4th | Andrew Pancoast | 50 |
| 5th | Paul McGlone | 45 |
| 6th | David Horner | 40 |
| 7th | Eric Schoch | 35 |
| 8th | Peter Pinocci | 30 |
| 9th | Austin Mackert | 28 |
| 10th | Edan Grossman | 26 |
| 11th | Gilles Melanson | 24 |
| 12th | Kevin Stone | 22 |
| 13th | Steve Stakem | 20 |
| 14th | Mike Ogilvie | 18 |
| 15th | Ken Van Pool | 16 |
| 16th | Randy Bissett | 14 |
| 17th | Shawn Hillman | 13 |
| 18th | Rich Wickersham | 12 |