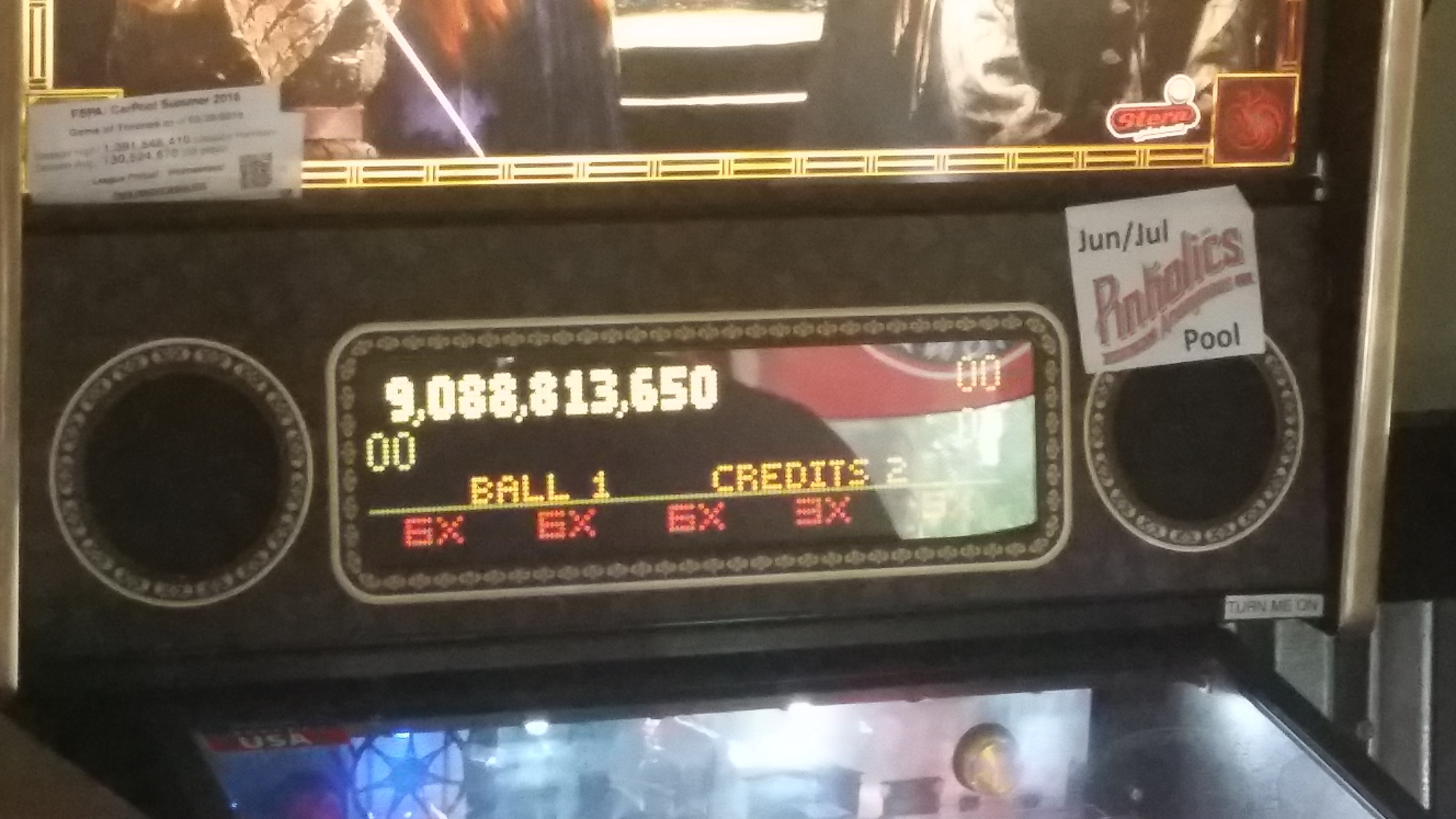 Qualifying Rounds
Results and final standings from qualifying can be found here for the following locations:
Details
The eighth multi-location finals for the Pinabler Tour was held on June 9th at Carpool in Fairfax, Va.  We had a slightly smaller field of 14 participants thanks to 28 qualifiers and one last minute drop out across all eight locations.
Some fun notes regarding the tournament. 
Austin Mackert won back-to-back Pinabler Tours with another great performance.
In the final round, Austin got to the Iron Throne on Game of Thrones on BALL ONE.  It was a truly epic game to watch.  He finished just under 10 BILLION points.
Edan Grossman played strong throughout as well, but Austin pulled away in the final round.
Once again, thanks goes out to all who played and attempted a qualifying game.  Everyone that plays just two games at one location helps expand the overall field.
Entry Fee / Expenses / Payouts
| Entry Fee | # of Players | Sub-Total |
| --- | --- | --- |
| Total | | $325 |
| Paid Players ($25) | 13 | $325 |
| Expense Type | Amount |
| --- | --- |
| Total | $48 |
| Pintervention Fund | $20 |
| IFPA Dues | $28 |
| Prize Pool | Amount |
| --- | --- |
| Total | $277 |
| 1st | $110 |
| 2nd | $85 |
| 3rd | $55 |
| 4th | $27 |
Final Results
| Place | Player | Tokens |
| --- | --- | --- |
| 1 | Austin Mackert | 17.17 |
| 2 | Kevin Stone | 10.76 |
| 3 | Edan Grossman | 7.78 |
| 4 | Bayless Rutherford | 5.79 |
| 5 | Tim Peterson | 4.38 |
| 6 | Scott Nash | 3.35 |
| 7 | Stephanie Traub | 2.61 |
| 7 | Douglas J Malcolm | 2.61 |
| 9 | Peter Pinocci | 1.68 |
| 10 | Mike Oehler | 1.4 |
| 11 | Michael D Barber | 1.21 |
| 12 | Andrew Robinson | 1.08 |
| 12 | Brian Weingartner | 1.08 |
| 14 | Andrew Pancoast | 0.92 |
| 15 | Doru Zuba | 0.86 |
| 16 | Fil Baird | 0.8 |
| 17 | Justin Bath | 0.74 |
| 18 | Elliott Keith | 0.67 |
| 19 | Brad DeShong | 0.61 |
| 20 | Noel Manzullo | 0.55 |
| 21 | Joana Lopes | 0.49 |
| 22 | Dale Geiger | 0.43 |
| 23 | Rob Wintler-Cox | 0.37 |
| 24 | Howard Dobson | 0.31 |
| 25 | Sidney Helfer | 0.25 |
| 26 | Chris Newsom | 0.18 |
| 27 | Benjamin McMurtry | 0.12 |
| 28 | Shawn Vernon | 0.06 |