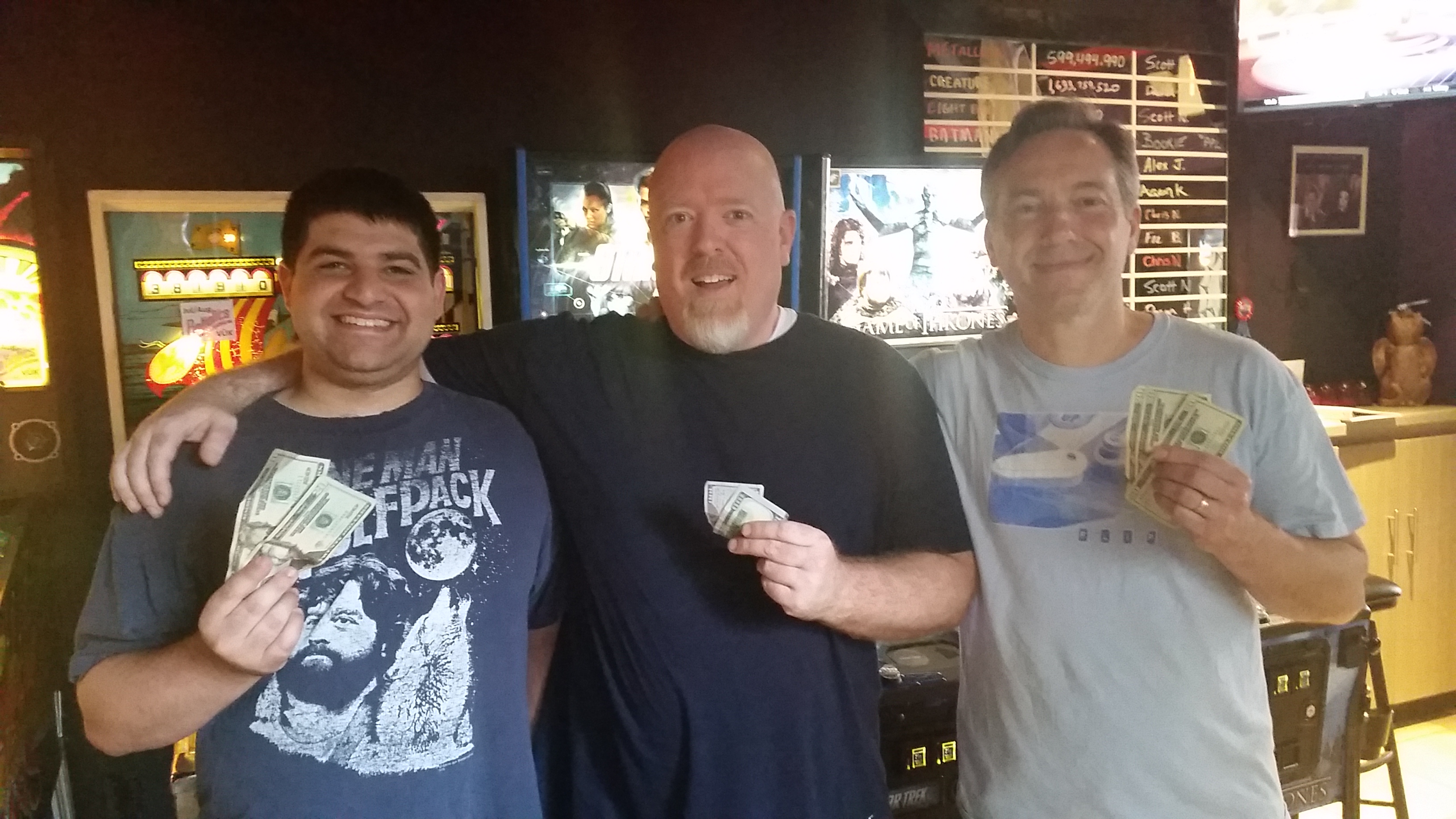 Details
The third multi-location Pinabler Tour of 2017 finals were held on July 8th at VÜK in Bethesda, Md.  We had 14 participants thanks to 28 qualifiers across all six locations.
Some fun notes regarding the tournament. 
One tie breaker occurred in the first round (quarter-finals) between players with 7 points.
Doug Malcolm won after being DQ'd in the 2nd game of the final match due to playing out of turn.  He then proceeded to win the final two games to take first place.  A simple DQ isn't going to stop the man from winning!
Once again, thanks goes out to all who played and attempted a qualifying game.  Everyone that plays just two games at one location helps expand the overall field.
Qualifying Rounds
Results and final standings from qualifying can be found here for the following locations:
Entry Fee / Expenses / Payouts
| Entry Fee Type | # of Players | Sub-Total |
| --- | --- | --- |
| Total | | $280 |
| Paid Players ($20) | 14 | $280 |
| Expense Type | Amount |
| --- | --- |
| Total | $60 |
| Pintervention Fund | $60 |
| Prize Pool | Amount |
| --- | --- |
| Total | $220 |
| 1st | $100 |
| 2nd | $60 |
| 3rd | $40 |
| 4th | $20 |
Final Results
| Place | Player | Tokens |
| --- | --- | --- |
| 1 | Douglas J Malcolm | 100 |
| 2 | Scott Nash | 75 |
| 3 | Edan Grossman | 60 |
| 4 | Fil Baird | 50 |
| 5 | Howard Dobson | 45 |
| 6 | Alex Jeffrey | 38 |
| 6 | Steve Stakem | 38 |
| 8 | Joana Lopes | 30 |
| 9 | Paul McGlone | 27 |
| 9 | Justin Bath | 27 |
| 11 | David Horner | 23 |
| 11 | Francis Parks | 23 |
| 13 | FL Ettlin | 19 |
| 13 | Kevin Stone | 19 |
| 15 | Chris Newsom | 16 |
| 16 | Pierce McLain | 14 |
| 17 | Audrey Bonsignore | 13 |
| 18 | Rob Thomas MD | 12 |
| 19 | Stephanie Traub | 11 |
| 19 | Andrew Robinson | 11 |
| 21 | Eric Schoch | 5 |
| 22 | Brad DeShong | 5 |
| 23 | Angela Pecora | 5 |
| 24 | Tim Peterson | 5 |
| 25 | Rob Wintler-Cox | 5 |
| 26 | Shawn Hillman | 5 |
| 27 | Peter Pinocci | 5 |
| 28 | Celina Cuadro | 5 |