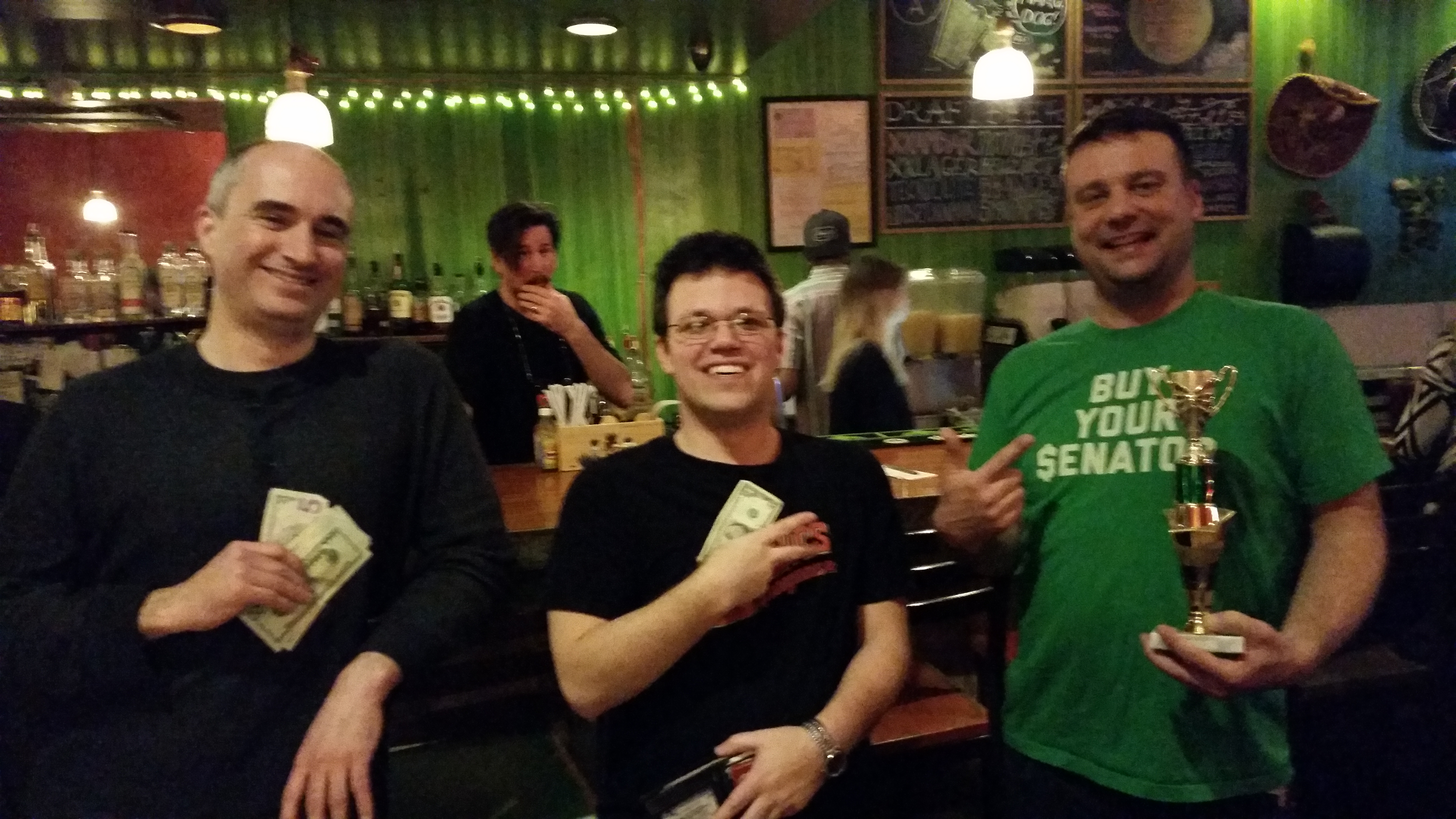 Qualifying Rounds
Results and final standings from qualifying can be found here for the following locations:
Details
The sixth multi-location and first finals for the Pinabler Tour of 2018 were held on February 17th at Holy Frijoles in Baltimore, Md.  We had a full field of 16 participants thanks to 38 qualifiers across all six locations.
Some fun notes regarding the tournament. 
Resident Holy Frijoles player and organizer, Jake Peterson, took down the inaugural Holy Frijoles tour, defeating Elliott Keith, Brian Galetta and Kevin Stone in the final four.
It came down to the final game to determine the winner on none other than Escape from the Lost World, one of the more interesting pinball games ever created.
Once again, thanks goes out to all who played and attempted a qualifying game.  Everyone that plays just two games at one location helps expand the overall field.
Entry Fee / Expenses / Payouts
| Entry Fee | # of Players | Sub-Total |
| --- | --- | --- |
| Total | | $400 |
| Paid Players ($25) | 16 | $400 |
| Expense Type | Amount |
| --- | --- |
| Total | $56 |
| Pintervention Fund | $20 |
| IFPA Dues | $36 |
| Prize Pool | Amount |
| --- | --- |
| Total | $344 |
| 1st | $135 |
| 2nd (Tie) | $85 |
| 2nd (Tie) | $85 |
| 4th | $39 |
Final Results
| Place | Player | WPPRS |
| --- | --- | --- |
| 1 |  Jake Peterson | 23.26 |
| 2 |  Elliott Keith | 15.94 |
| 2 |  Brian Galletta | 15.94 |
| 4 |  Kevin Stone | 9.77 |
| 5 |  Michael D Barber | 7.85 |
| 6 |  Brad Deshong | 6.34 |
| 6 |  Shawn Vernon | 6.34 |
| 8 |  Stephanie Traub | 4.24 |
| 9 |  Tim Peterson | 3.51 |
| 10 |  Steve Stakem | 2.93 |
| 10 |  Geoff Danek | 2.93 |
| 12 |  Jeff Carlson | 2.14 |
| 12 |  Peter Pinocci | 2.14 |
| 14 |  Justin Bath | 1.67 |
| 15 |  Scott Nash | 1.51 |
| 15 |  Dustin Rosenberry | 1.51 |
| 17 |  Paul McGlone | 1.3 |
| 17 |  David Horner | 1.3 |
| 19 |  Douglas J Malcolm | 1.16 |
| 20 |  Alex Jeffrey | 1.1 |
| 21 |  Noel Manzullo | 1.03 |
| 22 |  Andrew Robinson | 0.97 |
| 23 |  Howard Dobson | 0.9 |
| 24 |  Joe Kosack | 0.84 |
| 25 |  Edan Grossman | 0.78 |
| 26 |  Francis Parks | 0.71 |
| 27 |  Rob Wintler-Cox | 0.65 |
| 28 |  Bob K Mertz | 0.58 |
| 29 |  Chuck Gardner | 0.52 |
| 30 |  Bayless Rutherford | 0.45 |
| 31 |  Joana Lopes | 0.39 |
| 32 |  Rob Thomas MD | 0.32 |
| 33 |  Audrey Bonsignore | 0.26 |
| 34 |  James Hudson | 0.19 |
| 35 |  Eric Schoch | 0.13 |
| 36 |  Jose Chong | 0.06 |