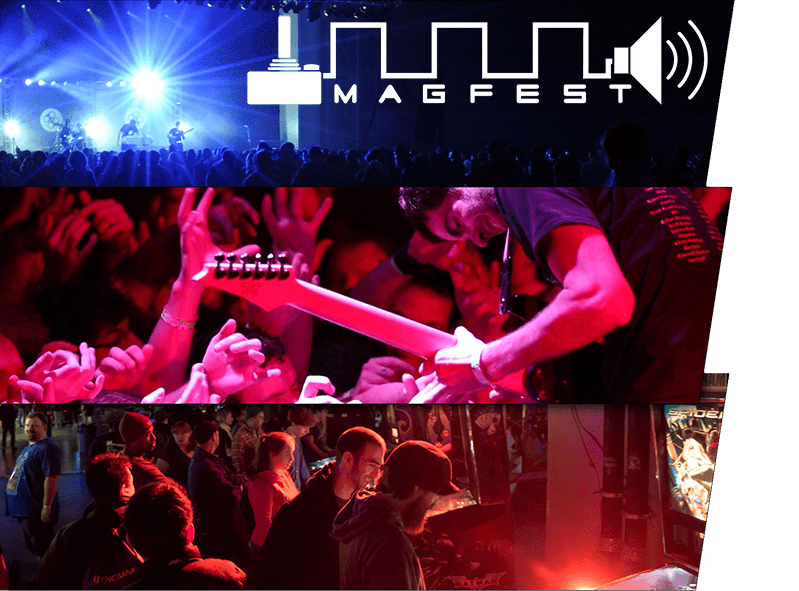 Tournament Information:
MAGfest, the Music and Gaming Festival taking place in the Washington, DC metro area, is hosting the MAGfest Pinball PAPA Circuit Tournament from January 4th through 6th.  The show runs 24/7 from the 4th through the 7th.  It literally doesn't shut down.  The arcade room is running 24/7 for 4 days, the concert hall is rocking non-stop, and thousands of cosplay everywhere you look throughout the show.  It is like nothing you've ever experienced!
The tournament is a modified Herb best game format with a PAPA style finals for the top 24 qualifiers.  There will also be a B division finals for the top 8 novices with an IFPA ranking over 5000.
NO ENTRY FEES!!!  That's correct, there are no tournament entry fees.  Players only need to purchase a show pass.  Early purchases of the pass are far cheaper than waiting late in the year. Initially they will be $59, then $69, $79 and finally $85.
Show passes go on sale on August 8th at 3pm ET on the MAGfest web-site.  It is also highly recommended that passes for the show are bought before travel arrangements are made and do not rely on buying passes at the door as the show will most likely sell out.
Details
Location: 

Gaylord National Resort & Convention Center

201 Waterfront St, Oxon Hill, MD 20745

Date:  January 4th through 6th (show goes through the 7th)
Entry: No tournament fees
Show Entry:  Initially $59, will then increase to $69, $79 and finally $85
Prizes:  MAGfest dollars to top 24 players, redeemable in the marketplace.
Rules:  Pinholics Anonymous rules based on the Consolidated IFPA/PAPA rule set
Qualifying: 

34 hours of qualifying

!!!  Thurs 6pm - 3am, Fri 9am - 3am, Sat 9am - 4pm.
Finals:  24 qualifiers, top 8 receive first round bye.  Four player groups play 3 game match, scoring 4, 2, 1, 0 each game.  Top two players advance from each group.
Scorekeeping Volunteer
If you would like to assist with scorekeeping, please send an email to the director with your name and email address.  MAGfest will then send you an email to select your shifts online.  Scorekeeping shifts are setup in 3 hour increments.  You get 10 free qualifying entries for helping with each shift.  Or 100 if you prefer.  They are free anyway : )
Pre-Registration
Registration on-site will be available only until 10pm each night except Thursday night, when it will end at midnight.  You may pre-register in order to avoid having to deal with registering on-site, which will greatly assist the tournament directors by allowing them to focus on other details.
To pre-register, send an email to magfest@pinholicsanonymous.com with the subject 'MAGfest registration' along with your full name, email address, and your IFPA player number if you have one.  You will receive an email with confirmation and player number the week before MAGfest begins.
Standings
Links to the live standings will be available here when the tournament starts.
Hotel Information
Hotels will be available through links provided in show registration confirmation emails.  The hotels will sell out very quickly, so it is recommended that you reserve a room ASAP on August 8th when show passes go on sale.  Hotel information will be updated here on August 8th when information is received on the hotels and block rates.
Game Lineup
Will be determined on January 3rd during setup and posted here before the start of the tournament.
---