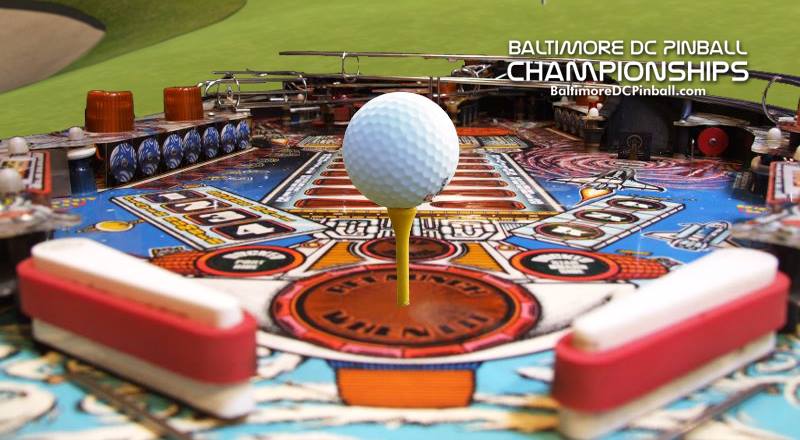 Tournament Information:
The 3rd annual VBH PinGolf Championships, hosted by Joe Kosack.  Located at the Volleyball House in Elkridge, Maryland.  This tournament features one of the more fun formats in pinball similar to golf.  Each 'hole' represents a goal to achieve on a specific pinball machine.  A player's score is determined by how many balls it takes to achieve the goal, or a maximum such as 6 if the goal is not achieved.
Full details including sign-ups for  a specific tee time can be found here at the official event's FaceBook page:
https://www.facebook.com/events/630487120440517
Details
Pinholics Anonymous Pintervention Circuit Event
Doors open at around 9am (check official even page for confirmation)
Tournament starts at 10am, but individual player tee times may vary throughout the day
Entry fee is $20
Top 4 finishers will win the prize pool at 40/30/20/10% for 1st through 4th place, minus Pintervention prize pool fee (pending verification from Joe)
Total of $50 from prize pool will go towards Pintervention Championship prize pool
Format
PinGolf with a playoff.  See official FaceBook event page for full details on format.
Final Results
| Place | Player | Tokens |
| --- | --- | --- |
| 1st | Justin Day | 100 |
| 2nd | Justin Bath | 75 |
| 3rd | Rob Wintler-Cox | 60 |
| 4th | Barry Schwartz | 50 |
| 5th | Joe Kosack | 45 |
| 6th | Rob Thomas | 40 |
| 7th | Jason Charlton | 35 |
| 8th | Richard Achterberg | 30 |
| 9th | Howard Dobson | 28 |
| 10th | Brian Nalley | 25 |
| 10th | Max Baskin | 25 |
| 12th | David Pacileo | 22 |
| 13th | Steve Stakem | 20 |
| 14th | Audrey Bonsignore | 18 |
| 15th | Bayless Rutherford | 15 |
| 15th | Steve Peck | 15 |
| 17th | Elaine Pacileo | 13 |