Details
We had a new Pinholics record of 65 players.  The weather turned out perfect with sun and no rain.  Players hung out everywhere including the back deck.  For food, we used the carry-out deal from Domino's again, this time getting 26 large 3 toppings pizzas that turned out to be plenty for everyone.  This time we got plenty of sodas and even had an extra 7 lever dip afterward.
Qualifying had 10 rounds total with one play-in game for nine 3-strike players resulting in 8 players in the finals.
Other notes:
Bowen Kerins, one of the top players in the world and provider of great tutorial videos, attended his first Pinholics Meeting.  He won the overall tournament with a dominating final round after getting through a tie-breaker in the semi-finals.
Jose Chong again brought his streaming gear and we had it setup on the newest member of the Pinholics collection:  Total Nuclear Annihilation.  The play-in game for finals was played on TNA and streamed.  It can be viewed here:  OneiPodOnePinball TNA Play-In Game
World Cup Soccer was moved to the utility room and was in the tournament (and players know what that means - WCS has now been sold)
Bowen Kerins got to Reactor 8/9 on two games that were also captured on stream.  The last one Kevin had a chance to play with him (and get schooled).  There was some interesting 'fan' interference along the way, but Bowen was a good sport.  It was very impressive to watch. 
You can watch the entire TNA stream, courtesy of Jose Chong's twitch TV channel here: Total Nuclear Annihlation Entire Stream
We raffled off a framed backglass (courtesy of Dave Hubbard), and three translites (courtesy of Kevin Stone).  The backglass was won by Brian and Rose Weingartner.  Translite winners were Sarah Halik and Paul Gulynn (and someone else I forgot).  Mike Frasca and Josh Dixon won Pinholics koozies.
We raised over $800 for the benefit of Cristin - thank you to everyone that so generously contributed.  Her family is very appreciative of our community's support.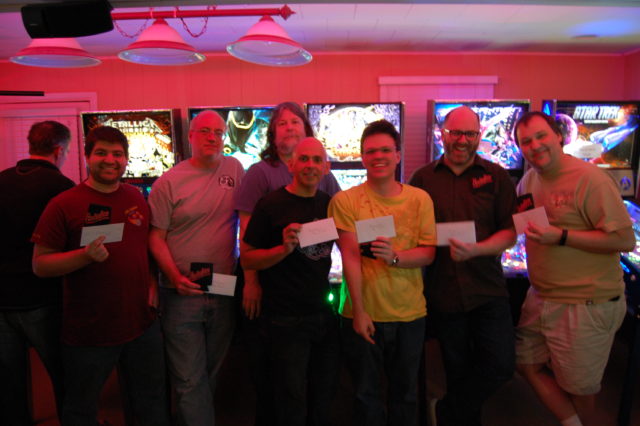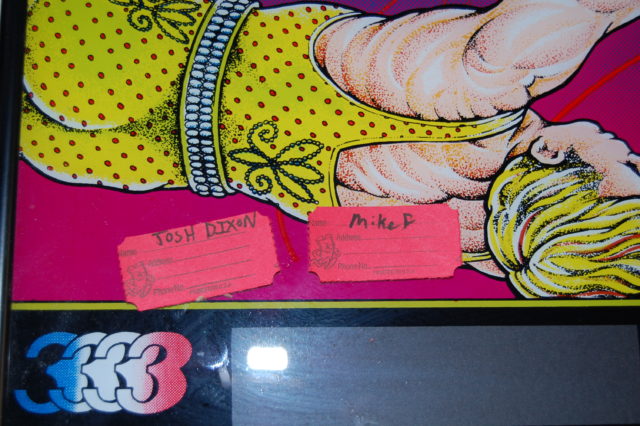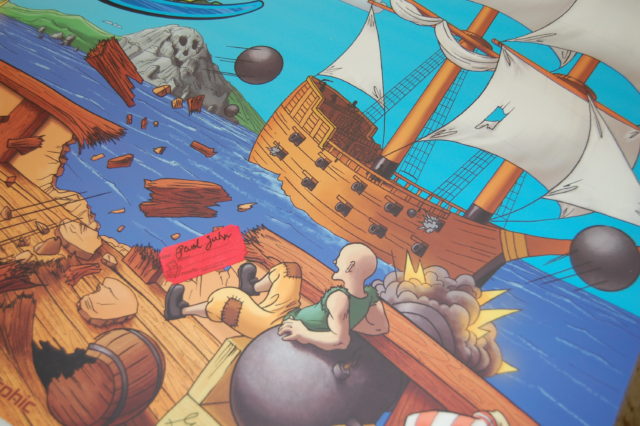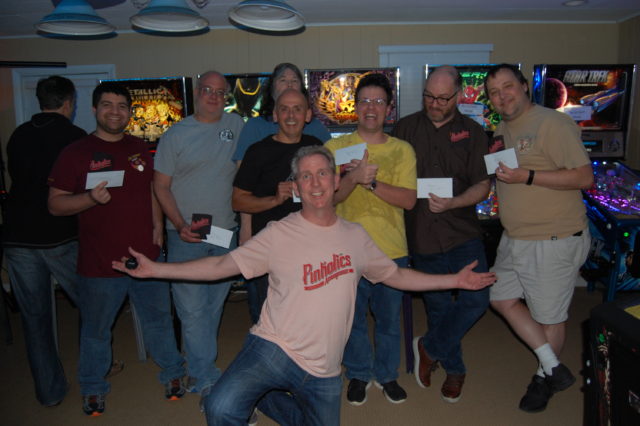 Finals
Player
Harlem
Aerosmith
World Cup Soccer
Walking Dead
Total
Result
1
Francis Parks
P1
68,030
0
P4
23,399,480
4
P1
343,046,640
1
P3
23,351,540
2
7
3rd
3
Bowen Kerins
P4
590,320
4
P1
20,455,010
2
P2
995,663,390
4
P1
14,956,430
1
11
1st
4
Elliott Keith
P3
87,650
1
P3
7,724,150
0
P4
318,406,880
0
P4
5,091,340
0
1
4th
6
Dale Geiger
P2
144,030
2
P2
9,669,340
1
P3
400,173,910
2
P2
27,249,900
4
9
2nd
Semi-Finals
Group 1
Player
Walking Dead
Centaur
Skateball
Total
Result
1
Francis Parks
P1
25,206,140
2
P2
544,500
4
P1
205,100
2
8
Adv.
4
Elliott Keith
P4
14,598,090
1
P3
540,540
2
P2
359,750
4
7
Adv.
5
Mike Barber
P3
48,448,540
4
P1
185,130
0
P4
192,000
1
5
6th
8
Edan Grossman
P2
6,454,610
0
P4
350,290
1
P3
181,800
0
1
T-7th
Group 2
Player
Paragon
Metallica
Tron
Total
Result
2
Joe Schober
P1
47,280
0
P4
17,780,090
1
P3
3,577,080
0
1
Tie-8th
3
Bowen Kerins
P4
174,380
2
P2
4,633,050
0
P4
54,578,860
4
6
Tie
6
Dale Geiger
P3
194,260
4
P1
17,865,540
2
P2
15,612,640
2
8
Adv.
7
Scott Sidley
P2
62,720
1
P3
52,942,380
4
P1
12,082,340
1
6
Tie
Tie-Breaker
Player
Total Nuclear Annihilation
Result
3
Bowen Kerins
P2
2,805,657
Win
Adv.
7
Scott Sidley
P1
638,191
Loss
5th
Entry Fee / Expenses / Payouts
| Entry Fee Type | # of Players | Sub-Total |
| --- | --- | --- |
| Total | | $1860 |
| Paid Players ($30) | 62 | $1860 |
| Children ($10) | 0 | $0 |
| Comped ($0) | 3 | $0 |
| Expense Type | Amount |
| --- | --- |
| Total | $567 |
| Management Fee | $100 |
| IFPA | $65 |
| Pintervention Fund | $65 |
| Snacks/Sodas | $165 |
| Pizza | $170 |
| Prize Pool | Amount |
| --- | --- |
| Total | $1,295 |
| 1st | $325 |
| 2nd | $260 |
| 3rd | $205 |
| 4th | $170 |
| 5th | $100 |
| 6th | $90 |
| 7th | $80 |
| 8th | $65 |
Final Results
| Place | Player | Tokens |
| --- | --- | --- |
| 1 | Bowen Kerins | 41.09 |
| 2 |  Dale Geiger | 31.79 |
| 3 |  Francis Parks | 26.81 |
| 4 |  Elliott Keith | 23.05 |
| 5 |  Scott Sidley | 20.01 |
| 6 |  Michael D Barber | 17.48 |
| 7 |  Edan Grossman | 15.33 |
| 8 |  Joe Schober | 13.5 |
| 9 |  Paul McGlone | 10.54 |
| 9 |  Mike Corica | 10.54 |
| 9 |  Bayless Rutherford | 10.54 |
| 9 |  Steve Kapinos | 10.54 |
| 13 |  Laura Fraley | 6.63 |
| 13 |  Mike Frasca | 6.63 |
| 13 |  Austin Mackert | 6.63 |
| 13 |  Andrew Pancoast | 6.63 |
| 17 |  David Horner | 3.72 |
| 17 |  Corey Long | 3.72 |
| 17 |  Jacquie Day | 3.72 |
| 17 |  Clark Fraley | 3.72 |
| 17 |  Dave Hubbard | 3.72 |
| 17 |  Kevin Stone | 3.72 |
| 17 |  Rob Wintler-Cox | 3.72 |
| 24 |  Rob Pannell | 2.4 |
| 24 |  Alex Jeffrey | 2.4 |
| 24 |  Josh Dixon | 2.4 |
| 24 | James Daley | 2.4 |
| 24 |  Roy DeJarnette | 2.4 |
| 24 |  Jon Long | 2.4 |
| 24 |  Douglas J Malcolm | 2.4 |
| 24 |  Geoff Danek | 2.4 |
| 24 |  Brad Deshong | 2.4 |
| 33 |  Shaun Yowell | 1.8 |
| 33 |  Jose Chong | 1.8 |
| 33 |  Tim Peterson | 1.8 |
| 33 |  Madmike Richardson | 1.8 |
| 33 |  Spencer DesRoches | 1.8 |
| 33 |  Justin Bath | 1.8 |
| 33 |  Chris Buford | 1.8 |
| 33 |  Bob S. Johnson | 1.8 |
| 33 |  Paul Gulyn | 1.8 |
| 33 |  CJ Brown US | 1.8 |
| 43 |  Eric Schoch | 1.16 |
| 43 |  Jennifer Coleman | 1.16 |
| 43 |  Shawn Vernon | 1.16 |
| 43 |  Gilles Melanson | 1.16 |
| 43 |  Brian Weingartner | 1.16 |
| 43 |  David Ross | 1.16 |
| 43 |  Daniel Purdy | 1.16 |
| 43 |  Rudy Keiser | 1.16 |
| 43 |  Michael Gulyn | 1.16 |
| 43 |  Peter Pinocci | 1.16 |
| 53 |  Steve Stakem | 0.58 |
| 53 |  David Barber | 0.58 |
| 53 |  Julie Schober | 0.58 |
| 53 |  Dan Quinn VA | 0.58 |
| 53 |  Paula Bailey | 0.58 |
| 53 |  Rose Weingartner | 0.58 |
| 53 |  Sarah Halik | 0.58 |
| 53 |  Lindsey Most | 0.58 |
| 61 |  Mike Polisky | 0.19 |
| 61 |  Ed Most | 0.19 |
| 61 |  Brian Galletta | 0.19 |
| 61 |  Chrissy Corica | 0.19 |