Details
We had another incredible turnout with 71 players, that included at least 8 cancellations due to the weather on Saturday.  The weather turned out horrible, probably the worst yet in the 6 years of Pinholics Anonymous tournaments.  However, everyone took it in stride and the garage became a good hangout area with a little water to deal with.  Players hung out everywhere including the back deck.  For food, we used the carry-out deal from Domino's again, this time getting 21 large 3 toppings pizzas that turned out to be just enough for everyone.  Players got a chance to ask for specific toppings and it worked out great.
Qualifying had 11 rounds total with one play-in game for six 3-strike players vying for 5 spots in 8 player finals.
Other notes:
We did a 50/50 raffle to help increase the prize pool, which ended up at $560 compared to $380 in September ($280 to the winner and $280 to the prize pool).  Congratulations to Rob Hurley who won the raffle, which turned out to be more than 3rd place in the tournament.
A new Pinholics Anonymous Champion was crowned as David Horner finally broke through and took home the big prize.  He won effectively a head-to-head match against Gilles Melanson for the last game on Star Wars to win it.  Chris Newsom took 3rd and Kevin Stone ended up in 4th.
David's performance jumped him from 82nd in Pintervention standings to around 13th, and moved him from around 28th in VA States to top 5 (roughly).  Last big Virginia event of the year, what a good time to hit a home run.
Final results:  1st - David Horner, 2nd - Gilles Melanson, 3rd - Chris Newsom, 4th - Kevin Stone.  Kevin did not win any money, so fourth place winnings went to Justin Day, and all other winnings moved down a spot, with Rose Weingartner who took 9th place winning 8th place prize money.
Entry Fee / Expenses / Payouts
| Entry Fee Type | # of Players | Sub-Total |
| --- | --- | --- |
| Total | | $2260 |
| Paid Players ($30) | 65 | $1950 |
| Children ($10) | 3 | $30 |
| Comped ($0) | 3 | $0 |
| 50/50 Raffle ($560) | | $280 |
| Expense Type | Amount |
| --- | --- |
| Total | $675 |
| Management Fee | $100 |
| IFPA | $71 |
| Pintervention Fund | $61 |
| Snacks/Sodas | $265 |
| Pizza | $178 |
| Prize Pool | Amount |
| --- | --- |
| Total | $1,585 |
| 1st | $400 |
| 2nd | $315 |
| 3rd | $255 |
| 4th | $205 |
| 5th | $125 |
| 6th | $110 |
| 7th | $95 |
| 8th | $80 |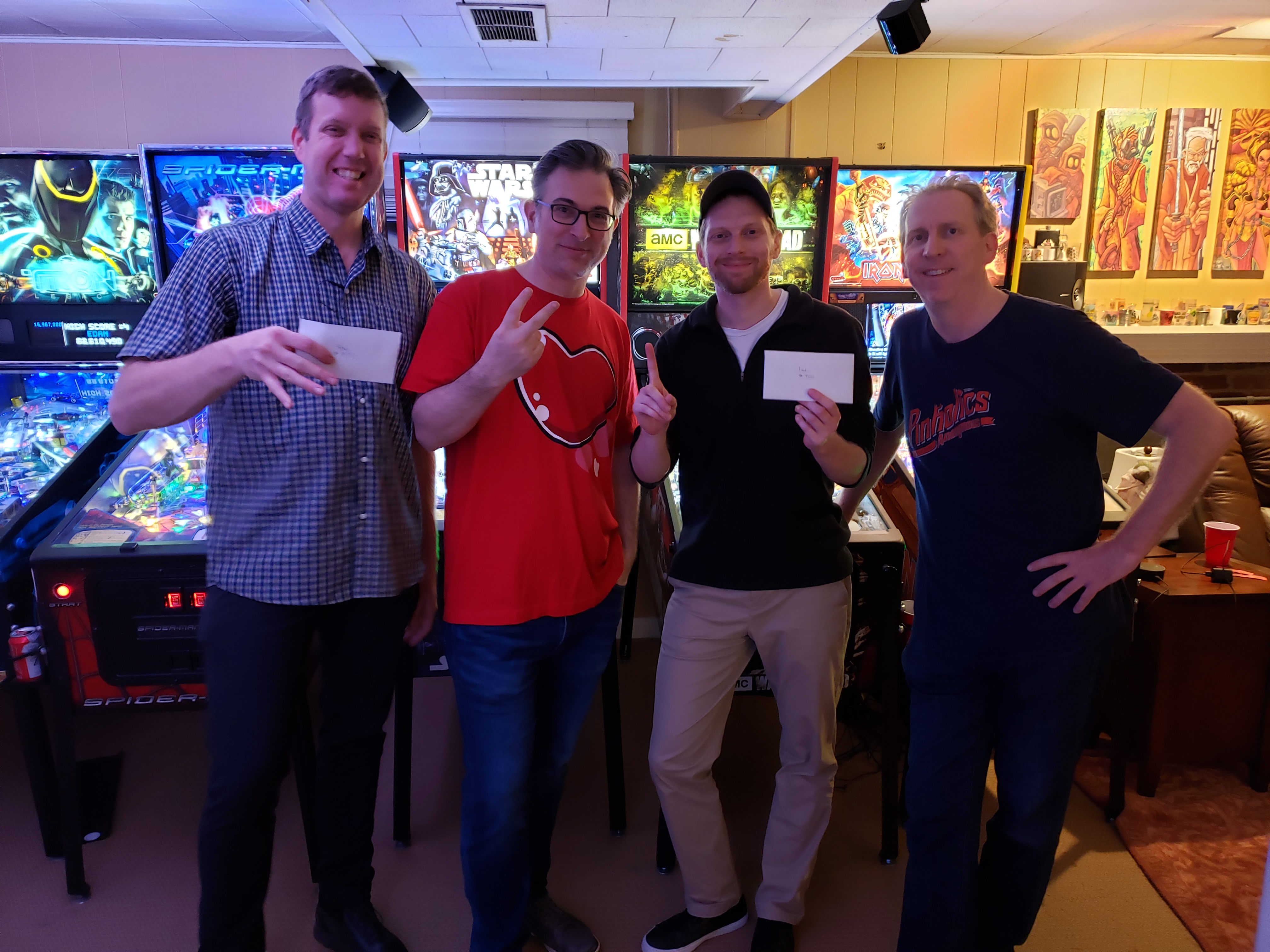 Final Results
| Place | Player | Tokens |
| --- | --- | --- |
| 1 |  David Horner | 42.97 |
| 2 |  Gilles Melanson | 33.54 |
| 3 |  Chris Newsom | 28.47 |
| 4 |  Kevin Stone | 24.62 |
| 5 |  Justin Day | 21.48 |
| 6 |  Dale Geiger | 18.87 |
| 7 |  Paul Gulyn | 16.64 |
| 8 |  Rob Wintler-Cox | 14.73 |
| 9 |  Rose Weingartner | 13.07 |
| 11 |  Scott Sidley | 10.37 |
| 11 |  Matt DeWorken | 10.37 |
| 11 |  Dave Hubbard | 10.37 |
| 11 |  Allen Foglesong | 10.37 |
| 16 |  Mike Frasca | 6.09 |
| 16 |  Fred Butts | 6.09 |
| 16 |  Brad Deshong | 6.09 |
| 16 |  Edan Grossman | 6.09 |
| 16 |  Bob S. Johnson | 6.09 |
| 16 |  Alex Jeffrey | 6.09 |
| 23 |  Daniel Purdy | 3.44 |
| 23 |  Steve Stakem | 3.44 |
| 23 |  Francis Parks | 3.44 |
| 23 |  Nitzan Gabai | 3.44 |
| 23 |  Christopher Morgan | 3.44 |
| 23 |  Deb Kapke | 3.44 |
| 23 |  Sanjay Shah | 3.44 |
| 23 |  Ed Most | 3.44 |
| 32 |  Elliott Keith | 2.42 |
| 32 |  Stephanie Traub | 2.42 |
| 32 |  Mike Polisky | 2.42 |
| 32 |  Tom Kenyon | 2.42 |
| 32 |  Jessy Ring | 2.42 |
| 32 |  Marc Borger | 2.42 |
| 32 |  Audrey Bonsignore | 2.42 |
| 32 |  Andrew Pancoast | 2.42 |
| 32 |  Tim Peterson | 2.42 |
| 32 |  Lindsey Most | 2.42 |
| 42 |  Jennifer Coleman | 1.82 |
| 42 |  Rich Wickersham | 1.82 |
| 42 |  Jack Frasca | 1.82 |
| 42 |  Bayless Rutherford | 1.82 |
| 42 |  Frank Cueto | 1.82 |
| 42 |  Alex Belden | 1.82 |
| 42 |  Justin Bath | 1.82 |
| 42 |  Vaughn Spencer | 1.82 |
| 42 |  Rob Thomas MD | 1.82 |
| 42 |  Daniel Reynolds | 1.82 |
| 53 |  Jessica Harrison | 1.15 |
| 53 |  Brian Weingartner | 1.15 |
| 53 |  Jessy Farrell | 1.15 |
| 53 |  Rob Hurley | 1.15 |
| 53 |  William Cromarty | 1.15 |
| 53 |  Rudy Keiser | 1.15 |
| 53 |  Riley Coleman | 1.15 |
| 53 |  CJ Brown US | 1.15 |
| 53 |  Angela Pecora | 1.15 |
| 53 |  Mike Corica | 1.15 |
| 53 |  Laura Fraley | 1.15 |
| 53 |  Jacquie Day | 1.15 |
| 63 |  Melanie Chapman | 0.54 |
| 63 |  Michael Gulyn | 0.54 |
| 63 |  Rob Pannell | 0.54 |
| 63 |  Shandi Cromarty | 0.54 |
| 63 |  Shawn Hillman | 0.54 |
| 63 |  Roy DeJarnette | 0.54 |
| 63 |  Doru Zuba | 0.54 |
| 63 |  Madmike Richardson | 0.54 |
| 69 |  McKenna Borger | 0.18 |
| 69 |  Chrissy Corica | 0.18 |
| 69 |  Dave Weaver | 0.18 |
| 69 |  Shane Russell | 0.18 |