Details
We had a new Pinholics record of 59 players.  The weather was cold but the light snow from the morning had metled, and the fire was burning tall and hot all night.  For food, we used the carry-out deal from Domino's again, this time getting 22 large 3 toppings pizzas that turned out to be plenty for everyone (we had 3 leftover pizzas).  Didn't get enough sodas this time, they went fast, so we'll get more next time.
Qualifying had 10 rounds total with one play-in game for 3 strike players resulting in 8 players in the finals.
Other notes:
Steven Bowden, of FunWithBonus.com, won his fourth overall and second consecutive Pinholics Anonymous tournament.  Steven again had 3 strikes going into the play-in round, made it into semi-finals and took it down in 3 games out of 4 in the finals!
Jose Chong again brought his streaming gear and we had it setup on the newest member of the Pinholics collection:  Star Wars.  The fourth and final game of the finals was played on Star Wars and can be viewed here:  OneiPodOnePinball Final Game Stream
Jack-bot was moved to the utility room and was in the tournament
Spider-man Black on loan in the garage was on open play all day and night
The 'Final' game on Star Wars was also streamed and can be watched here if you want to see what happens late night (and the inebriation level of Mr. Stone): Pinholics Final Game on Star Wars
You can watch the entire Star Wars stream, courtesy of Jose Chong's twitch TV channel here: Star Wars Entire Stream (comp. mode on)
Santa Claus made a brief appearance!!!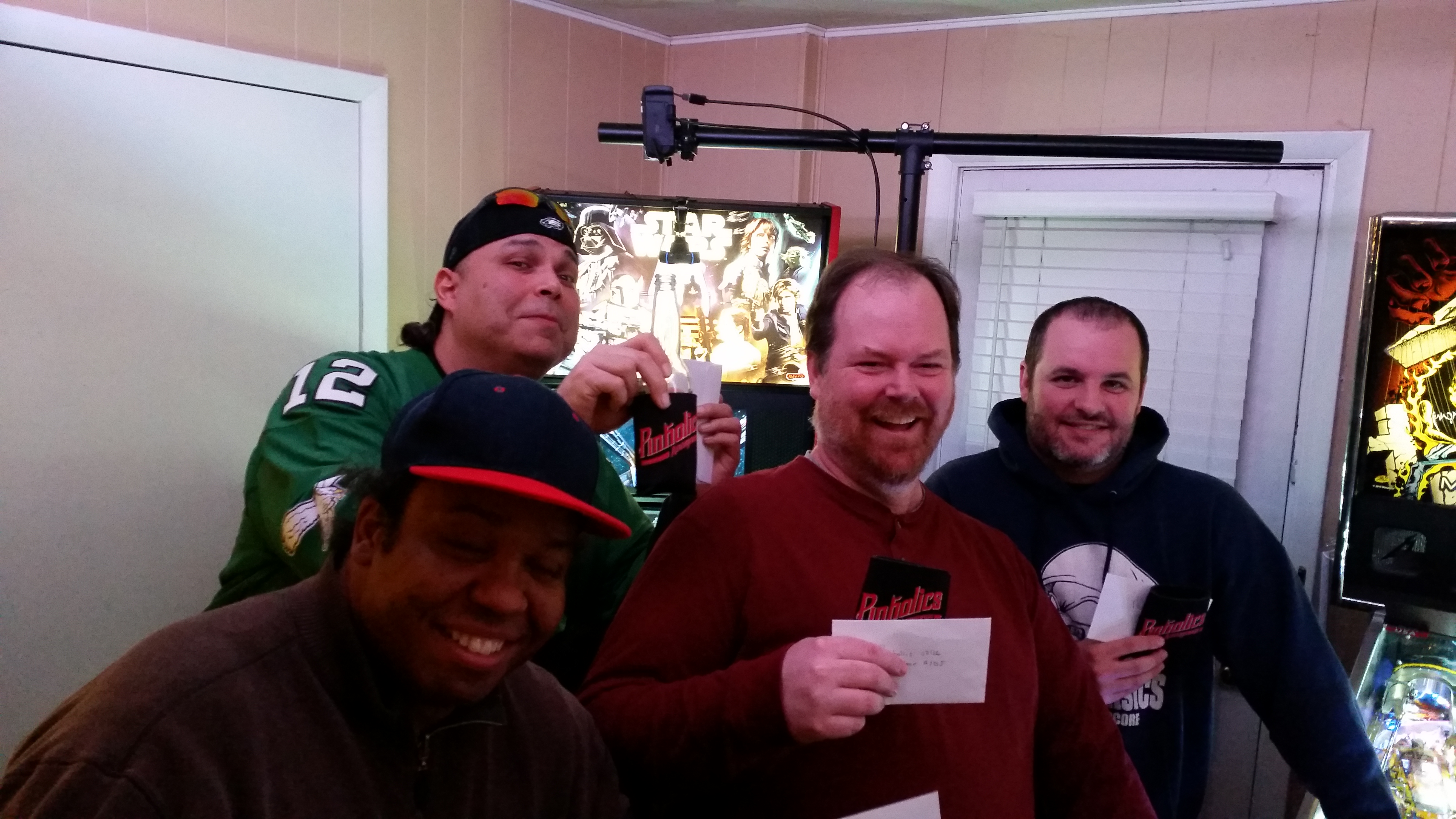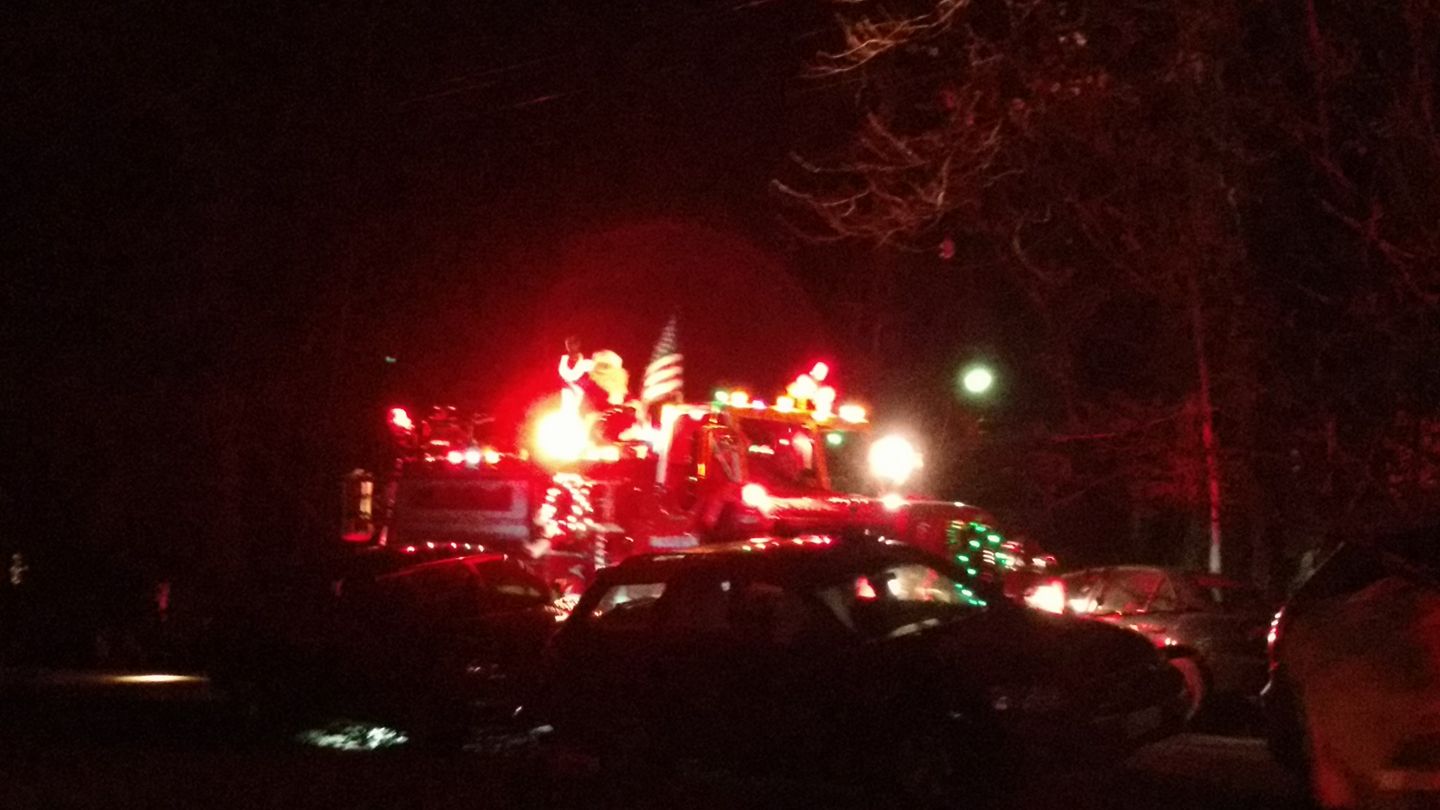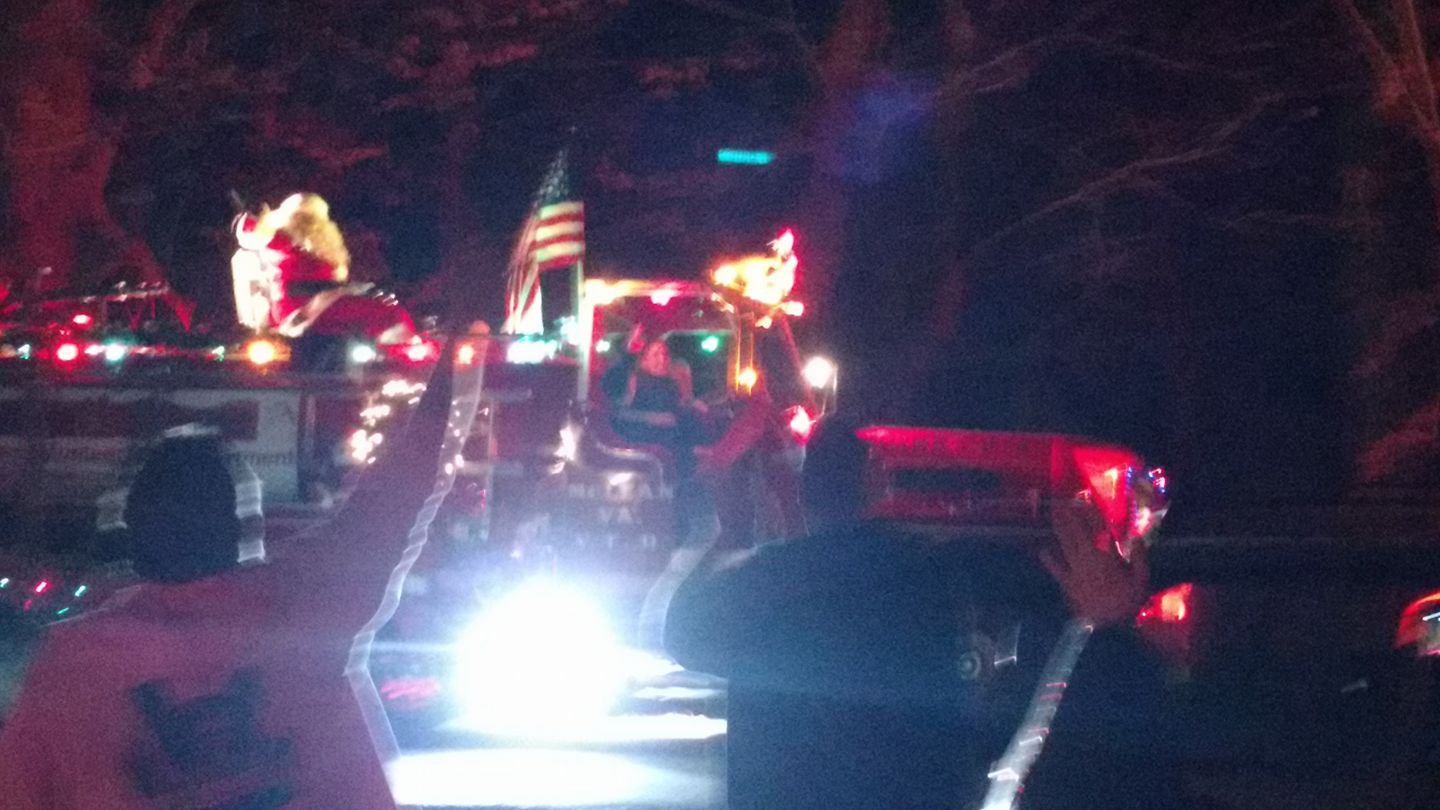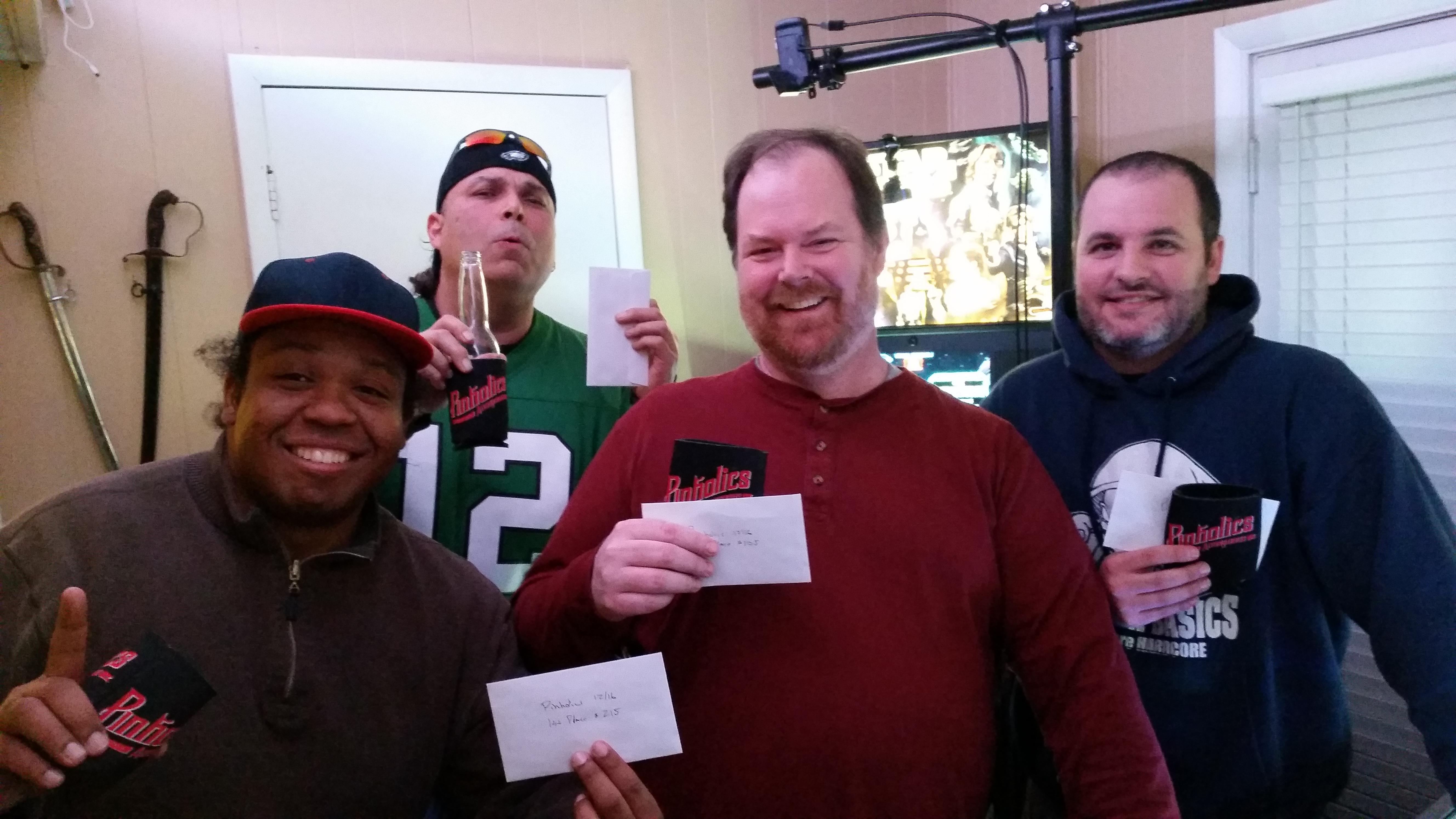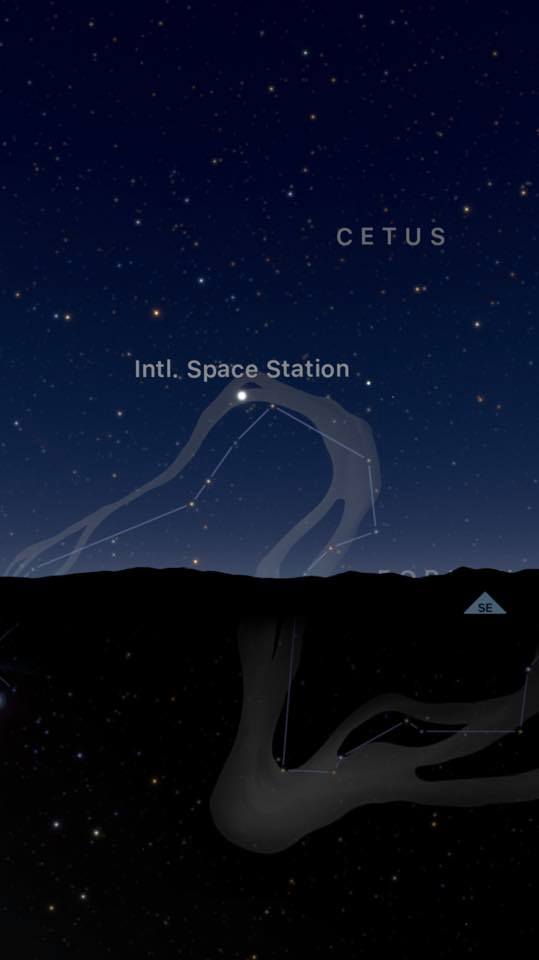 Finals
Player
Stars
Star Trek
Metallica
Star Wars
Total
Result
2
Justin Bath
P1
72,520
1
P3
8,393,950
1
P3
42,245,310
2
P2
159,803,610
2
6
2nd
4
Dave Hubbard
P4
47,910
0
P4
25,614,710
2
P2
22,374,250
1
P3
112,304,700
1
4
T-3rd
5
Steven Bowden
P3
94,370
2
P2
119,537,550
4
P1
94,609,220
4
P1
2,692,752,280
4
14
1st
6
Eric Schoch
P2
101,360
4
P1
5,793,070
0
P4
3,902,610
0
P4
86,974,820
0
4
T-3rd
3rd place Tie-Breaker
Player
Harlem Globetrotters
Result
4
Dave Hubbard
P1
334,810
Win
3rd
6
Eric Schoch
P2
93,110
Loss
4th
Semi-Finals
Group 1
Player
Metallica
Tron
Spider-man
Centaur
Total
Result
1
Joe Schober
P1
45,265,830
2
P2
3,795,190
0
P4
13,791,210
1
P3
282,220
2
5
T-5th
4
Dave Hubbard
P4
50,982,540
4
P1
3,812,040
1
P3
27,510,710
2
P2
784,510
4
11
Adv.
5
Steven Bowden
P3
16,163,590
1
P2
9,189,340
4
P1
37,822,870
4
P1
62,030
0
9
Adv.
8
Angela Pecora
P2
4,766,760
0
P4
7,465,150
2
P2
7,746,380
0
P4
104,270
1
3
T-7th
Group 2
Player
Centaur
Aerosmith
HG
Jackbot
Total
Result
2
Justin Bath
P1
1,018,910
4
P1
67,789,620
2
P2
224,300
4
P1
644,554,210
0
10
Adv.
3
Rob Wintler-Cox
P4
185,770
0
P4
34,761,490
1
P3
183,420
2
P2
2,706,277,660
2
5
T-5th
6
Eric Schoch
P3
302,140
1
P3
89,551,090
4
P1
98,830
1
P3
3,360,605,840
4
10
Adv.
7
Michael Gulyn
P2
527,460
2
P2
29,449,100
0
P4
68,600
0
P4
1,113,848,420
1
3
T-7th
Entry Fee / Expenses / Payouts
| Entry Fee Type | # of Players | Sub-Total |
| --- | --- | --- |
| Total | | $1110 |
| Paid Players ($20) | 55 | $1100 |
| Children ($10) | 1 | $10 |
| Comped ($0) | 3 | $0 |
| Expense Type | Amount |
| --- | --- |
| Total | $435 |
| Snacks/Sodas | $145 |
| Pizza | $190 |
| Pintervention Fund | $100 |
| Repair Fund | $0 |
| Prize Pool | Amount |
| --- | --- |
| Total | $675 |
| 1st | $215 |
| 2nd | $160 |
| 3rd | $105 |
| 4th | $50 |
| 5th-8th ($30 each) | $120 |
| Koozie Prizes | $25 |
Final Results
| Place | Player | Tokens |
| --- | --- | --- |
| 1 | Steven Bowden | 100 |
| 2 | Justin Bath | 75 |
| 3 | Dave Hubbard | 60 |
| 4 | Eric Schoch | 50 |
| 5 | Joe Schober | 43 |
| 5 | Rob Wintler-Cox | 43 |
| 7 | Michael Gulyn | 33 |
| 7 | Angela Pecora | 33 |
| 9 | Paul McGlone | 26 |
| 9 | Alex Jeffrey | 26 |
| 9 | Roy DeJarnette | 26 |
| 12 | Bayless Rutherford | 18 |
| 12 | Kevin Stone | 18 |
| 12 | Justin Day | 18 |
| 12 | Jason Bell | 18 |
| 12 | Matt DeWorken | 18 |
| 17 | Alexander Belden | 10 |
| 17 | David Horner | 10 |
| 17 | Tim Peterson | 10 |
| 17 | Rich Wickersham | 10 |
| 17 | Andrew Pancoast | 10 |
| 17 | Mike Polisky | 10 |
| 23 | Dale Geiger | 5 |
| 23 | Doru Zuba | 5 |
| 23 | Jose Chong | 5 |
| 23 | Phil Rogoff | 5 |
| 23 | Ben Bain | 5 |
| 23 | Nitzan Gabai | 5 |
| 23 | Francisco Cueto | 5 |
| 23 | Atid Kimelman | 5 |
| 31 | Sara Peczkowski | 5 |
| 31 | Lindsey Most | 5 |
| 31 | David Pacileo | 5 |
| 31 | Paul Gulyn | 5 |
| 31 | Shawn Hillman | 5 |
| 31 | Paula Bailey | 5 |
| 31 | Steve Stakem | 5 |
| 31 | Daniel Purdy | 5 |
| 31 | Riley Coleman | 5 |
| 40 | Calvin Oung | 5 |
| 40 | Ed Most | 5 |
| 40 | Bob S. Johnson | 5 |
| 40 | Cristin Gasson | 5 |
| 40 | Francis Parks | 5 |
| 40 | Max Baskin | 5 |
| 40 | Elliott Keith | 5 |
| 40 | Brian Galletta | 5 |
| 40 | Stephanie Traub | 5 |
| 49 | Scott Sidley | 5 |
| 49 | Dillon Most | 5 |
| 49 | Mike Corica | 5 |
| 49 | Chuck Gardner | 5 |
| 49 | Jacquie Day | 5 |
| 49 | James Hudson | 5 |
| 49 | Douglas J Malcolm | 5 |
| 49 | Melanie Chapman | 5 |
| 57 | Chrissy Corica | 5 |
| 57 | Elaine Pacileo | 5 |
| 57 | Christopher Morgan | 5 |