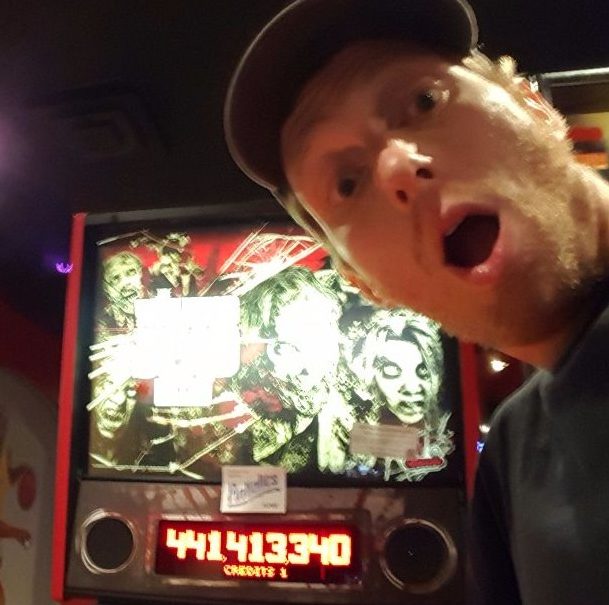 Details
The second Pinabler Tour finals were held on July 8th at 8pm at Red Zone in Fairfax.  We had 7 participants due to a last minute no-show.  Also, based on feedback and length of time the finals took to complete, we determined that keeping the field at 8 players will be best moving forward.  Once he surpass 40 qualifiers we will consider expanding the field to 12 players with top 4 receiving a bye.
Some fun notes regarding the tournament. 
Austin and Paul played a tie-breaker game on The Walking Dead to determine seed 1 and 2 since they were completely tied in all 5 games during qualifying.
Group 2 in the semi-finals went to a 3-way playoff tie-breaker between Austin, Edan and Kevin to determine which two players advanced.  Edan didn't make the cut.
The final ball on the final game of AC/DC determined whether Austin or David Horner would win.  Austin had 53.5 million and David had 61.6 million, with Kevin playing the last ball starting at around 30 million.  If Kevin doesn't beat Austin, then Austin and David play a tie-breaker for first place. If Kevin beats Austin, David wins, if he beats David, Austin wins.  At around 52 million, Kevin missed a 20+million cannon jackpot shot and ended up just shy of David at nearly 60 million.  What a close finish!
Qualifying Rounds
Results and final standings from qualifying can be found here
Semi-Finals
Group 1
Player
Game of Thrones
Meteor
Harlem
Total
Result
1
Paul McGlone
P1
24,702,640
1
P1
827,344
4
P1
25,540
1
6
6th
4
David Horner
P3
282,750,070
4
P3
258,634
2
P3
60,450
2
8
Adv.
7
Steve Stakem
P2
167,375,880
2
P2
197,824
1
P2
76,950
4
7
Adv.
Group 2
Player
Walking Dead
AC/DC
Tron
Total
Result
2
Austin Mackert
P1
72,210,400
2
P2
61,429,160
1
P2
75,357,860
4
7
Tie
3
Kevin Stone
P4
145,630,140
4
P4
70,731,330
2
P4
39,950,040
1
7
Tie
5
Edan Grossman
P3
39,594,330
1
P3
86,737,940
4
P3
41,883,060
2
7
Tie
6
Rob Wintler-Cox
P2
35,133,350
0
P1
34,501,960
0
P1
16,789,250
0
0
7th
Tie Breaker
Player
Meteor
Result
2
Austin Mackert
P1
711,955
Win
Adv.
3
Kevin Stone
P3
526,015
Win
Adv.
5
Edan Grossman
P2
264,075
Lost
5th
Finals
Player
Walking Dead
Tron
AC/DC
Total
Result
2
Austin Mackert
P1
133,588,580
4
P1
24,651,990
2
P1
53,554,220
1
7
2nd
3
Kevin Stone
P4
20,182,890
1
P4
6,807,010
0
P4
59,931,220
2
3
T-3rd
4
David Horner
P3
15,455,700
0
P3
34,234,810
4
P3
61,622,290
4
8
1st
7
Steve Stakem
P2
22,325,800
2
P2
14,300,660
1
P2
5,819,210
0
3
T-3rd
Entry Fee / Expenses / Payouts
| Entry Fee Type | # of Players | Sub-Total |
| --- | --- | --- |
| Total | | $105 |
| Paid Players ($15) | 7 | $105 |
| Expense Type | Amount |
| --- | --- |
| Total | $30 |
| Pintervention Fund | $30 |
| Prize Pool | Amount |
| --- | --- |
| Total | $75 |
| 1st | $50 |
| 2nd | $25 |
Final Results
| Place | Player | Tokens |
| --- | --- | --- |
| 1st | David Horner | 100 |
| 2nd | Austin Mackert | 75 |
| T-3rd | Kevin Stone | 55 |
| T-3rd | Steve Stakem | 55 |
| 5th | Edan Grossman | 45 |
| 6th | Paul McGlone | 40 |
| 7th | Rob Wintler-Cox | 35 |
| 8th | James Daley | 30 |
| 9th | Daniel Cotter | 28 |
| 10th | Andrew Pancoast | 26 |
| 11th | David Pacileo | 24 |
| T-12th | Bob S. Johnson | 21 |
| T-12th | Eric Schoch | 21 |
| 14th | Howard Dobson | 18 |
| 15th | Sunshine Bon | 16 |
| 16th | Alan Barrett | 14 |
| 17th | Brian Leonard | 13 |
| 18th | Rich Wickersham | 12 |
| 19th | Randy Bissett | 11 |
| 20th | Holly Eney | 10 |