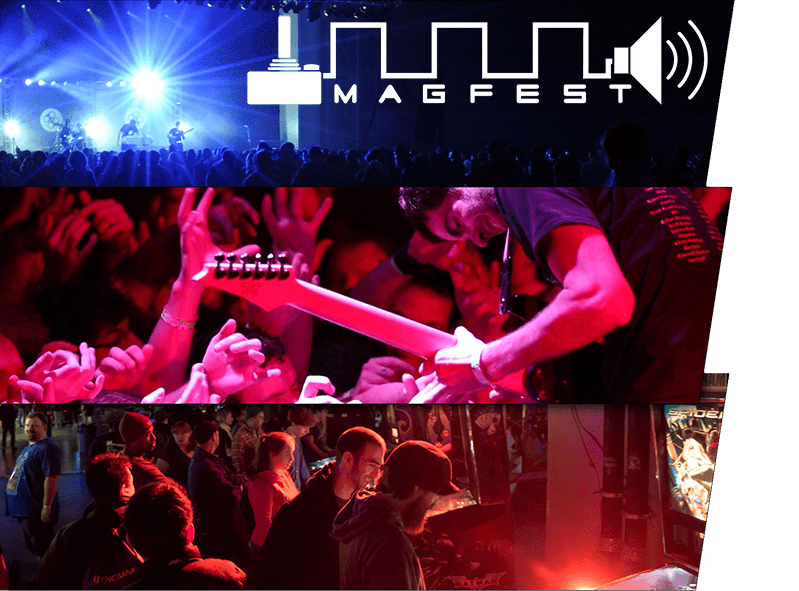 Tournament Information:
MAGfest, the Music and Gaming Festival taking place in the Washington, DC metro area, is hosting the MAGfest Pinball Stern Pro Circuit Tournament from January 3rd through 5th.  The show runs 24/7 from the 3rd through the 6th.  It literally doesn't shut down.  The arcade room is running 24/7 for 4 days, the concert hall is rocking non-stop, and thousands of cosplay everywhere you look throughout the show.  It is like nothing you've ever experienced!
The tournament is a modified Herb best game format with a PAPA style finals for the top 24 qualifiers.  There will also be a B division finals for the top 8 novices with an IFPA ranking over 5000.
NO ENTRY FEES!!!  That's correct, there are no tournament entry fees.  Players only need to purchase a show pass costing $75 for the entire show.  Price goes up to $85 on January 2nd.
Show passes are on sale now on the MAGfest web-site.  It is also highly recommended that passes for the show are bought before travel arrangements are made and do not rely on buying passes at the door as the show will most likely sell out.
Details
Location:

Gaylord National Resort & Convention Center

201 Waterfront St, Oxon Hill, MD 20745

Date:  January 3rd through 5th (show goes through the 6th)
Entry: No tournament fees
Show Entry:  $75, door price is $85
Prizes:  MAGfest dollars to top 24 players, redeemable in the marketplace.
Rules:  Pinholics Anonymous rules based on the Consolidated IFPA/PAPA rule set
Qualifying: 

34 hours of qualifying

!!!  Thurs 6pm - 3am, Fri 9am - 3am, Sat 9am - 4pm.
Finals:  24 qualifiers, top 8 receive first round bye.  Four player groups play 3 game match, scoring 4, 2, 1, 0 each game.  Top two players advance from each group.
Schedule
Qualifying
Thursday:  6pm to 3am
Friday:  9am to 3am
Saturday:  9am to 4pm*
* games started by 4pm can be completed, no other games start after 4pm
Finals
Saturday:
6pm start for A division
6:30pm start for B division
ALL players must check-in between 5:30 and 5:50pm to be in finals
Hotel Information
Hotel rooms are likely all sold out in the National Harbor, but many other good deals can be found including in Alexandria, Virginia.  Due to parking issues on Friday and Saturday, it may even be easier to simply taxi or Uber to and from the convention center from hotels nearby in Alexandria.
Standings
Links to the live standings will be available here when the tournament starts.
Pre-Registration
Register now to avoid lines, get your ID and PIN before the tournament starts, and links to the scoring / queuing system that will also show you the games in the tournament as they are identified and added to the system.
If you want to receive text messages as your position in queues changes, add your mobile phone in the ticketing system.  You may also choose your own PIN in the check-out form.
Game Lineup
Will be determined on January 3rd during setup and posted here before the start of the tournament.
---